WARNING: Visitors should be aware that this website includes images and names of deceased people that may cause sadness or distress to Aboriginal and Torres Strait Islander peoples.
---
'Nations within a Nation' – the Centenary of Federation float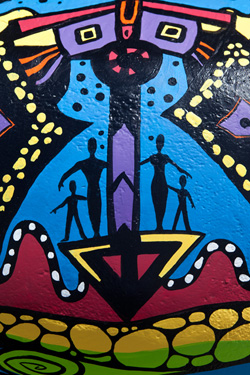 The 'Nations within a Nation' float was part of the opening sequence of the Journey of a Nation — The Federation Parade, that was held in Sydney on 1 January 2001. The float, designed by Bronwyn Bancroft, was a celebration of Koori culture. Bancroft, a nationally recognised artist and Bundjalung woman, designed the float to be bright, colourful and vibrating with life.
In Sydney in 1901, there was no Aboriginal presence in the Commonwealth Celebration Great Inaugural Procession, which was held as part of the inaugural Federation celebrations. In a bid to readdress this 'absence' The Centenary of Federation Committee invited the local Koori community to participate in the Journey of a Nation — The Federation Parade in 2001. It became one of the first national public events acknowledging Aboriginal peoples as the First Australians. Bancroft says 'My argument to the other Aboriginal people about being involved was that it was better to have a presence after 200 years of colonisation than not to be there at all'. Inclusion of the float in the parade and participation by the local Koori community was also significant because it reflected a change in the attitude of Aboriginal people towards increasing their visibility within mainstream events for political purposes.
Bancroft was inspired by an Oodgeroo Noonuccal (Kath Walker) story — 'The beginning of life'. In the design painted onto the float, and the very shape of the float itself, are references to the Rainbow Serpent and his creative power as well as representations of the themes of hope, the importance of families and cooperating with nature. With Noonuccal's story and her own established visual language Bancroft uses this opportunity to share and promote her Bundjalung heritage. Bancroft states: the spiritual element of your work is what you carry through the lives of other people. And so, for me, the people that I'm descended from, they enable me to speak these stories …'
On the day of the parade, the float carried the Murrawadeen Goodjarga performing arts ensemble that was made up of Koori secondary students. The costumes of the participants were similar in design to the float. The presentation also included banners naming the different language groups of the New South Wales region and, importantly, those language groups which may cross over the state borders 'which were drawn up at Federation without consideration or discussion with the Aboriginal people who were here'. During the parade, the banners were carried by Marri Djanaba students and the Aboriginal Dance Theatre Redfern.
The Museum acquired the 'Nations within a Nation' float in 2001, shortly after the parade was held. The acquisition is an example of innovation in and celebration of contemporary Aboriginal culture at an historic event.
Barbara Paulson, Curator, ATSIP