WARNING: Visitors should be aware that this website includes images and names of deceased people that may cause sadness or distress to Aboriginal and Torres Strait Islander peoples.
---
Greetings from the new Head of ATSIP
Hello and welcome to Goree. I'm Alisa Duff and, as of August 2011, I am the new Head of the Aboriginal and Torres Strait Islander Program (ATSIP) here at the National Museum of Australia. This is my second time working at the Museum; in 2001, I worked on the Tracking Kultja Festival coordinating the performance program. Before coming back to the Museum, I program managed the ACCELERATE: Indigenous Australian Creative Leadership award at the British Council Australia in Sydney and was an Indigenous visiting research fellow with the Australian Institute of Aboriginal and Torres Strait Islander Studies (AIATSIS). My work background is in the arts and cultural sector, and I'm also a graduate of NAISDA Dance College. I look forward to contributing my knowledge and experience to future Museum initiatives.
I'm excited to be working here under the direction of Andrew Sayers and would also like to acknowledge and thank Michael Pickering and Margo Neale for their stewardship of ATSIP.
ATSIP is the largest of the curatorial programs in the Museum with a wide portfolio of duties ranging from exhibition development, collection research and assessments, and community access visits and consultations. ATSIP also contributes to discussions on contemporary issues and policy developments regarding Aboriginal and Torres Strait Islander participation and representation in the Museum and cultural industries. As part of our work for the Museum, ATSIP is regularly called on to provide expert lectures, research advice, sit on panels and take part in developing international projects and partnerships.
ATSIP delivered a hat trick at the end of 2011 opening three new exhibitions here at the Museum. First, in August, Bipotaim: Stories from the Torres Strait opened in the Torres Strait Gallery. Then, in September, Off the Walls: Art from Aboriginal and Torres Strait Islander Affairs Agencies 1967–2005 opened in the First Australians Focus Gallery. In November, we opened the ground-breaking exhibition Inside: Life in Children's Homes and Institutions in the Studio Gallery. You will hear more about these in later stories within Goree.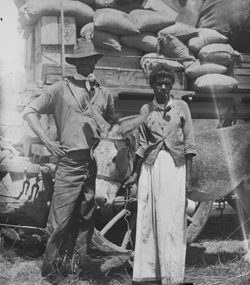 We also have four exhibitions that are currently touring around Australia. Yalangbara: Art of the Djang'kawu, which will be at the Museum and Art Gallery of the Northern Territory in Darwin until July 2012, will then go on display at the Western Australian Museum in November 2012. This exhibition is definitely one to check out. Its popularity in Canberra saw the exhibition have an extra six weeks on display here at the National Museum. Yiwarra Kuju: The Canning Stock Route is currently open at the Australian Museum in Sydney until April 2012. While in Canberra, Yiwarra Kuju received the highest number of visitors recorded for a free, temporary exhibition. From Little Things Big Things Grow: Fighting for Indigenous Rights 1920– 1970 will be at its final venue — the Queensland Museum, Southbank — until 26 May 2012. A Different Time: The Expedition Photographs of Herbert Basedow 1903–1928 will be showing at the South Australian Museum 11 May – 24 June 2012.
ATSIP is in the process of developing three major exhibitions. The Warakurna History Paintings will go on display in the First Australians Focus Gallery later this year. Secondly, Old Masters is an exciting exhibition which will reposition bark paintings from the 1930s–1990s as works of 'art' instead of 'anthropology', this will be on display in late 2013. The third major exhibition is the British Museum project. With the current working title of Encounters, this exhibition is being developed in collaboration with the British Museum in London and the Australian National University. Encounters will be on display in 2015. See Ian Coates' article: 'Reconnecting communities with collections' of this issue of Goree.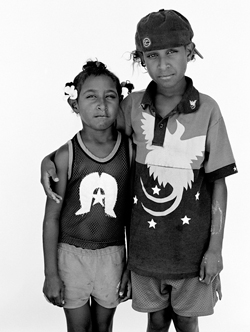 It's a pleasure to play a continuing role in supporting programs that develop skills and industry knowledge for Aboriginal and Torres Strait Islanders who are working in museums. In the past few months, we've hosted four interns including Thelma Savage from the Gab Titui Cultural Centre on Thursday Island in the Torres Strait. Thelma assisted in the setting up and display of the Bipotaim exhibition; Liz Tew from the Tasmanian Museum and Art Gallery was our first intern from Tasmania. She joined us and assisted with the setting up and display of Off the Walls. Thelma and Liz both completed their internships under ATSIP's Indigenous Curators Mentorship program.
Rochelle Armstrong came to us through the Australian Public Service Graduate Program over the Christmas/New Year break and focused on collection research. Rochelle is from Victoria and currently in her final year of study at the University of Melbourne where she is completing a double major in History and Politics. Fanny Thomas joined us in February and is our first French intern. Fanny is currently undertaking postgraduate study at the University of Lille. Her area of interest is Aboriginal painting and she is assisting with the development of the Warakurna History Paintings exhibition.
ATSIP are continually working on new and innovative projects to showcase the richness and diversity of Aboriginal and Torres Strait Islander cultures and cultural material, both historic and contemporary. We develop programs, events and exhibitions to celebrate and acknowledge key historic dates, issues and stories that are shared by Aboriginal and Torres Strait Islanders. One such event, on which the Museum is collaborating with the ACT Torres Strait Islanders Corporation, is a commemoration of the 20th anniversary of the Mabo decision, to take place in June 2012. We are also working in collaboration with the National Gallery of Australia to deliver partner events for this year's NAIDOC week.
Here at the Museum, something is always happening. We are more than a national cultural institution; we are a site for representation, discussion and celebration of all that is important to us as Australians. This year promises to be a big one for us at the Museum, with building refurbishments and extensions underway as well as continuing with the usual Museum programs, exhibitions and other initiatives. If you want to keep an eye on these or any upcoming event, then check the First Australians website for more information.
Alisa Duff, Head, ATSIP