WARNING: Visitors should be aware that this website includes images and names of deceased people that may cause sadness or distress to Aboriginal and Torres Strait Islander peoples.
---
Deaconess Kunmanara Hilliard*, MBE OAM (1921-2012)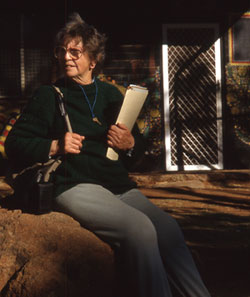 The National Museum is fortunate to be the beneficiary of the greater portion of the unique collection of Deaconess Kunmanara Hilliard, made during her years at Ernabella. Not only is there a wide range of art and craft items produced by the talented artists at Ernabella, there is much in the collection relating to the history of Ernabella itself, including photographs, films and documents.
With the death of Kunmanara in January 2012, the National Museum lost a true friend, great supporter and a distinguished Australian who worked with and for Aboriginal and Torres Strait Islander peoples.
Kunmanara is best known for her role as craft adviser/arts coordinator at Ernabella, located in the picturesque Musgrave Ranges in north-western South Australia, between 1954 and 1986.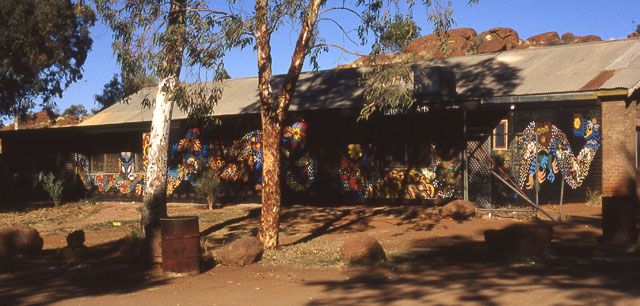 Kunmanara clearly had a sense of history and this may be one reason behind her collecting such a broad range of material. She wrote several papers and one highly regarded book, The People in Between (1968), and was writing another at the time of her death. Kunmanara was always generous with her time and knowledge and would always assist people who contacted her to draw on her knowledge.
Before her deaconess training at the Presbyterian Church's Rolland House Deaconess and Missionary Training College in Melbourne, between 1948 and 1950, Kunmanara had a varied career. Her schooling was followed by two years training in art and craft at Presbyterian Ladies College and 18 months as an assistant in the college's Geography Department. In 1941 she moved to the Munitions Department Drawing Office as a draughtsperson before joining the Women's Royal Australian Air Force (WRAAF) in 1944, where she trained as an instrument repairer. In late 1945 she ran a short course in Melbourne teaching craft to service people, providing them with occupation until their discharge. In between her WRAAF service and deaconess training, Kunmanara worked at the Trans Australia Airlines drawing office. After completing her deaconess training, she worked with disadvantaged people in Carlton, Melbourne, until 1952 when she was posted to the newly built St David's at North Albury. Kunmanara was sent there to assist the minister, based at Albury. In effect, this meant doing pretty much everything, from running the Sunday school to delivering sermons.
Kunmanara had hoped, following in the footsteps of a favourite aunt, to serve as a missionary in Korea. Instead, the Presbyterian Church asked her to go to Ernabella, to take over the running of the craftroom there. She had little experience of Aboriginal people and a very short handover period. It was Kunmanara's policy that she was there to assist the women, and that any decisions regarding the art and craft were to be made by them. It was the Church's policy that the art and craft should pay its own way. This was a time when some of the Ernabella craftroom products were difficult to sell and those that were sold could only be bought for a pittance. There were times when Kunmanara found trying to keep the books balanced tough going. However, she was a strong woman, practical in keeping the craftroom running and forthright in standing up for the artists and the wider Pitjantjatjara/Yankunytjatjara community. She would ease the pressure of her position by travelling overseas, usually on her own. Either for work or pleasure, the only continent Kunmanara did not visit was Antarctica.
Her relationship with Ernabella and Ernabella's artists, many of whom were close friends, did not end with her retirement in 1986. She returned several times, notably for the 60th anniversary of Ernabella Arts in 2008, and often met with people when they came 'down south'.
Kunmanara Hilliard will be remembered for her enduring legacy a body of written and visual work that speaks particularly of the development and growth of art and craft at an Aboriginal centre significant for its place in Australian art and craft history. She also leaves an irreplaceable collection that is central to the telling of this story. This is a legacy that will endure forever and is appropriately part of the national collection.
David Kaus, Curator, ATSIP
---
* In accordance with Indigenous cultural protocol at Ernabella, I have not used Deaconess Hilliard's first name, nor her 'skin' name, which was given to her shortly after she arrived at Ernabella in 1954.