WARNING: Visitors should be aware that this website includes images and names of deceased people that may cause sadness or distress to Aboriginal and Torres Strait Islander peoples.
---
Bipotaim: a glimpse of the Torres Strait in Canberra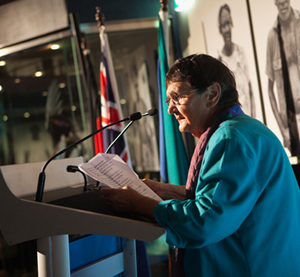 Last year I had the privilege of travelling to Canberra twice to do internships at the National Museum of Australia. My first trip consisted of a two-week program to work in various departments at the Museum, whilst the second trip was to help with the installation of the Museum's current exhibition Bipotaim: Stories from the Torres Strait. Bipotaim is a collection of portraits by photographer David Callow, and stories and quotes from people from four communities in the Torres Strait, namely Masig, Saibai, St Pauls and Thursday Island. The stories are based on events before and after the 1967 referendum.
This exhibition was produced by Gab Titui Cultural Centre on Thursday Island and, as their representative and a Torres Strait Islander, I feel very fortunate to have been part of the National Museum's installation team. This experience has increased my knowledge and understanding of working in the cultural heritage industry and I look forward to applying my new skills in my position as the gallery officer at Gab Titui.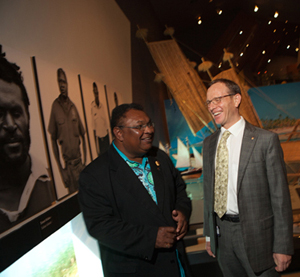 The Museum staff were very friendly and welcoming and happily answered all of my questions. I am very proud that Bipotaim has travelled, not only to our state capital, Brisbane, but also to our nation's capital, Canberra. It is good to see that our stories are now being told not only in the Torres Strait but elsewhere as well. Putting this exhibition together was a way of bringing attention to the Torres Strait region and reminding people of the importance of cultural maintenance and preservation.
Growing up in the Kubin community on Moa Island, I learnt about cultural maintenance and preservation. I was taught to have respect for the elderly and to understand the importance of community. If people went out hunting or fishing, every family would be given a share of the food that they brought back. I believe our young people these days take a lot of things for granted. Before the referendum, our people were treated differently just because of the colour of their skin. Bipotaim records how people remember the past and their hopes for our people and our future; it is a way of recording our culture and knowledge.
I would like to congratulate the curator Pip McNaught and the exhibition team on this exhibition; it looks fantastic. A big thank you to the National Museum of Australia and Gab Titui Cultural Centre for giving me such a wonderful opportunity.
Thelma Savage, Gallery Officer, Gab Titui Cultural Centre.
Bipotaim: The curator's view
An exhibition is made up of so many components, people, decisions, discussions, threads — and that's not forgetting the research, objects, images, words and labels.
A curator teases out the various themes that jostle for attention. Gradually, things find (or are found) their place within the scheme. The objects fit and all is settled — then something begins to niggle, it's just not quite right. Some objects are removed, or replaced. Gradually things begin to flow, the objects and themes come together. Now we have the final object list.
Objects now start the journey from storage to display. All have the conservatorial eye fixed on them. Mmmmm — not sure you can use that one, it's been on display a lot … The curatorial heart sinks a little. Well, OK we'll test it … Good news it can go on display — or, bad news, is there an alternative? Slowly the objects are marshalled together, given the tick and sent to the holding shelves.
Next — the labels. Aaaah, the words … There is a limit? Surely not … how many? Six folders of fascinating, absorbing, remarkable research and you want me to not exceed how many words? A 50-word limit?! A curator's lot is a sorry one ... Oh, all right, I'll see what I can do. Words are gradually whittled down. Off the text goes to the wordsmiths; back it comes, still TOO LONG. Sigh, start again.
We also need to update the map. No problem: source a map, send details to copyright, pay the fees, make the map Museum audience friendly, send it to be printed and place it in the desired location. Too easy — you would think. The best map of the little surveyed Torres Strait was not editable. 'No change, no way, never' was the reply that we got when requesting permission to make changes. We explained that we would be adding information to the map — the names of islands — and it was not going to be used for navigation but for exhibition purposes only. On display behind glass in the museum … 'No changes, no way, never'.
Start again. Persuade a good friend, design magician, with tiny window in schedule to produce a beautiful map, with curatorial requirements, at super speed and printed large. But wait ... there's more! First the old map had to be taken off the glass. Would it be able to be removed? No guarantee. Would the glass be reusable? No guarantee. In this case all went well but for a few scary moments of possible scratched or broken glass.
Exhibition installation day arrives and the dim old Torres Strait Islander gallery is filled with light and colour — tropical dresses and shirts, sea grass, dugongs, shiny pearl shells and diving gear. David Callow's beautiful portraits of Torres Strait Islanders resonate with quotes underneath; strong and poignant words. Within the gallery we can hear the voices of the Torres Strait coming from the figures appearing on the big screen.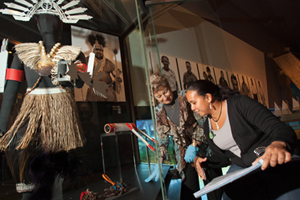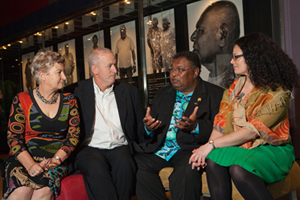 All ready for the opening
As always, it was great working with the staff of the Gab Titui Cultural Centre. Having Thelma Savage on site in Canberra to consult on installing the exhibition made it a much speedier process. Now there is a little bit of the warmth and colour of the Torres Strait Islands at the National Museum of Australia in the heart of Canberra.
Pip McNaught, Curator, ATSIP