WARNING: Visitors should be aware that this website includes images and names of deceased people that may cause sadness or distress to Aboriginal and Torres Strait Islander peoples.
---
Goree: Aboriginal Torres Strait Islander News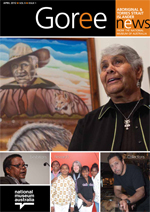 Edition editor: Barbara Paulson
Copy editor: Justine Molony
Project manager: Barbara Paulson
Design: Giraffe Visual Communication Management Pty Ltd
Print: Paragon Printers Australasia
Photos: George Serras, Jason McCarthy and Katie Green, National Museum of Australia, unless otherwise noted
Cover photos: Main: Dr Lowitja O'Donoghue at the opening of Off the Walls, standing in front of Lance Atkinson's painting Bourke's Own Son, 1995
Bottom left: Peter Yu, Chairman of the Museum's Indigenous Advisory Committee
Bottom middle: Roeburne visitors Sonya Wilson, Lily Togo, Andy Greenslade (ATSIP Curator), Ivy Wilson and Esther Daniel at the Museum
Bottom right: Lee Burgess inside Landmarks. Photo: Sandra Pilot
Email mates@nma.gov.au
Produced by the Aboriginal and Torres Strait Islander Program with assistance from the Photography, Publishing and Copyright and Production sections of the National Museum of Australia.