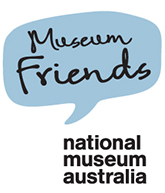 Contact
Tel + 61 2 6208 5048
Email friends@nma.gov.au
Connect

YouTube
Supporting the Museum
Ongoing support in 2014–15
Your ongoing support enables us to continue to build, conserve and interpret the National Historical Collection for generations to come. In 2014–15, your support will help us to:
catalogue and digitise the Museum's extensive collection of bark paintings, making these works from the world's largest collection available to national and international audiences online. A selection of these beautiful barks are now on show in our Old Masters exhibition
acquire contemporary objects for the Encounters project – a collaboration between our Museum and the British Museum in London
redevelop the Museum's most popular attraction for young visitors – Kspace.
The National Museum Fund
The National Museum of Australia is a place that celebrates our people and culture of storytelling. Help us tell the Australian story.
Donating objects
Generous donations from people like you help ensure the continuing development of the National Museum's collections.
Volunteers
The National Museum welcomes and values the contribution of volunteers and recognises the wide range of skills and knowledge they bring with them.
Bequests
With your help, the National Museum will continue to build its National Historical Collection and inspire and engage new audiences into the future.
For more information contact development@nma.gov.au