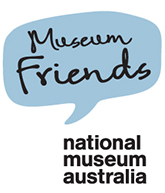 Contact
Membership enquiries
Tel +61 2 6208 5108
Tel +61 2 6208 5141
Member event bookings
Tel +61 2 6208 5021
General Friends enquiries
Tel +61 2 6208 5048
Email
friends@nma.gov.au
Connect

YouTube
The Museum magazine
The Museum magazine
Friends of the Museum members receive a complimentary subscription to The Museum magazine. The Museum is a bi-annual publication full of news covering Museum exhibitions, upcoming events, new acquisitions, Australian stories and historic object profiles from the Museum's collection.
Friends magazine archive
Prior to the establishment of The Museum, the Friends of the National Museum of Australia, in partnership with the National Museum, published the Friends magazine (2002-2011).