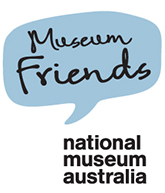 Contact
Tel + 61 2 6208 5048
Email friends@nma.gov.au
Connect

YouTube
Landmark women series
Landmark women celebrates the lives and passions of distinguished women living and working in Canberra.
The program runs from February to November. Previous speakers include journalists, writers, parliamentarians, diplomats, artists, academics, sportswomen, businesswomen and musicians.
Check the online Calendar for other Museum events
Previous presentations
Listen to the audio or read the transcripts of previous presentations by landmark women.
Friday, 21 November 2014


Michelle Hetherington
Curator Michelle Hetherington discusses her life and her work researching and developing major exhibitions for the National Library of Australia and National Museum of Australia.


Friday, 17 October 2014

Dr Sue Packer AM
Paediatrician Sue Packer talks about her work to improve the lives of children and her role chairing the Mr Fluffy asbestos expert reference group.


Friday, 26 September 2014

Audio available; transcript coming soon


Alex Sloan
Popular 666 ABC radio host Alex Sloan reflects on growing up in the country, her work at the national broadcaster and her life in the Canberra region.


Friday, 15 August 2014

Audio/transcript

Dr Elizabeth Truswell
Geologist Dr Truswell has combined her love of botany and geology with the study of palynology (the study of fossil and living pollen grains and plant spores). Her interest in deep-sea drilling has helped to create art works which have been exhibited in Canberra.


Friday, 18 July 2014

Susie Beaver
Susie Beaver has worked in the arts with various community organisations across the country. Susie and her husband Martin run Beaver Galleries, Canberra's largest commercial gallery, tirelessly promoting contemporary Australian artists.


Friday, 27 June 2014


Dr Julia Newton-Howes
This month we welcome Dr Julia Newton-Howes AM, CEO of CARE Australia since 2007, and during this time she has focused on ensuring that gender equality and women's empowerment are central to CARE's programs, growing CARE's revenue and ensuring effective management.

On Australia Day 2014, she became a Member of the General Division of the Order of Australia in recognition of her significant service to the international community through executive roles with aid organisations, and to women.

In 2013, she was named Telstra ACT Business Woman of the Year and won the Global category in the 2013 Financial Review – Westpac 100 Women of Influence Awards.

Friday, 16 May 2014

Dr Mary-Jane Mountain
Dr Mary-Jane Mountain is a retired archaeologist, who taught at four universities across the world from the 1960s to 2006. She graduated in history and archaeology in the UK, then worked at Saffron Walden Museum, Essex. After teaching adult education classes she joined the Department of Prehistory at the University of Edinburgh in the 1960s. Ten years later she began fieldwork in the Highlands, Papua New Guinea and taught at the University of Papua New Guinea. In 1978 she came to the Australian National University and completed a PhD that included 8 months fieldwork in a remote Papua New Guinea village, with partner Barry Shaw and their 3-month-old baby. Many years of teaching and mentoring followed at the ANU with ongoing research on the archaeological materials, including bone from three extinct animal species and early human artefacts excavated from Nombe rockshelter, PNG.


Friday, 11 April 2014

Kaarin Anstey
Kaarin Anstey is an Australian National University Public Policy Fellow, Director of the Centre for Research on Ageing Health and Wellbeing, and the Dementia Collaborative Research Centre. Her research interests include cognitive epidemiology, chronic disease and mental health, prevention of cognitive decline and dementia, mental wellbeing, and the impact of cognitive decline on productive ageing.


Friday, 28 March 2014

Carolyn Forster OAM
Carolyn Forster talks about her work in the Federal Parliament, and with organisations the Children's Medical Research Institute, ACT Heritage Festival and Friends of the National Museum of Australia.

Friday, 14 February 2014

Catherine Carter
Property Council of Australia ACT executive director Catherine Carter talks about the Property Council's operations, policy development and public affairs, and working with people from bureaucrats to builders in a male dominated industry.

Friday, 15 November 2013

Ruth Pearce
Ruth Pearce is a former Australian diplomat. Her diverse and challenging international life has included postings as Australian ambassador to the Solomon Islands, Russia along with accreditation to 12 former Soviet republics, the Philippines and Poland.

Friday, 18 October 2013

Elizabeth Reid AO
Elizabeth Reid, a Fellow of the Academy of Social Sciences in Australia, is a development practitioner, feminist and academic with a distinguished career in national and international public service and was appointed the world's first advisor on women's affairs by the Labor Government of Gough Whitlam in 1973.

Friday, 27 September 2013

Daryl Karp
Daryl Karp talks about her work as director of the Museum of Australian Democracy (MOAD), her passion for science media, and work on the board of the Special Broadcasting Service (SBS) Australia and the Children's Television Foundation.

Friday, 16 August 2013

Louise Page
Soprano Louise Page, one of Australia's most highly regarded singers, talks about her work in opera, cabaret, recitals and broadcasts, as well as bringing up her family in Canberra.

Friday, 19 July 2013

Catriona Jackson
Science and Technology Australia chief executive officer Catriona Jackson speaks about her career in politics, public affairs, tertiary education and journalism, in this Friends of the National Museum series.