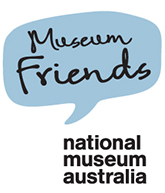 Contact
Tel + 61 2 6208 5048
Email friends@nma.gov.au
Connect

YouTube
Landmark women series
Landmark women celebrates the lives and passions of distinguished women living and working in Canberra.
The program runs from February to July. Previous speakers include journalists, writers, parliamentarians, diplomats, artists, academics, sportswomen, businesswomen and musicians.
Coming up in 2014
Kaarin Anstey
Friday 11 April, 10am to 12 noon
This month we welcome Kaarin Anstey, an Australian National University Public Policy Fellow, Director of the Centre for Research on Ageing Health and Wellbeing, and the Dementia Collaborative Research Centre. Her research interests include cognitive epidemiology, chronic disease and mental health, prevention of cognitive decline and dementia, mental wellbeing, and the impact of cognitive decline on productive ageing.
Cost: $10 non-members, $5 full members, full concession members free. Includes refreshments.
Bookings essential by email bookings@nma.gov.au or phone (02) 6208 5021 (business hours).
Visions theatre and Friends Lounge
Latest presentations
Listen to the audio or read the transcripts of the latest presentations by landmark women.
Friday, 28 March 2014

Carolyn Forster OAM
Carolyn Forster, a member of the Canberra Committee of the Children's Medical Research Institute since 1973, serving three times as President. She worked in the Federal Parliament for 11 years, in the Senate, the House of Representatives, and the Ministry. She chaired the ACT Heritage Festival for 11 years, chaired the Board of Phillip College and is a Past President of the Women's International Club, ACT. Carolyn is currently a committee member and a former President of the Friends of the National Museum of Australia.

Friday, 14 February 2014

Catherine Carter
ACT Executive Director of the Property Council of Australia. Catherine talks about running the ACT Property Council's operations, policy development and public affairs, and working with people from bureaucrats to builders in a male dominated industry.

Friday, 15 November 2013

Ruth Pearce
Ruth Pearce is a former Australian diplomat. Her diverse and challenging international life has included postings as Australian ambassador to the Solomon Islands, Russia along with accreditation to 12 former Soviet republics, the Philippines and Poland.

Friday, 18 October 2013

Elizabeth Reid AO
Elizabeth Reid, a Fellow of the Academy of Social Sciences in Australia, is a development practitioner, feminist and academic with a distinguished career in national and international public service and was appointed the world's first advisor on women's affairs by the Labor Government of Gough Whitlam in 1973.

Friday, 27 September 2013

Daryl Karp
Daryl is an internationally recognised, award-winning executive with a passion for science media. In addition to her role as director of the Museum of Australian Democracy (MOAD), she is director of the Special Broadcasting Service (SBS) Australia and the Children's Television Foundation.

Friday, 16 August 2013

Louise Page
Soprano Louise Page, one of Australia's most highly regarded singers, talks about her work in opera, cabaret, recitals and broadcasts, as well as bringing up her family in Canberra.

Friday, 19 July 2013

Catriona Jackson
Science and Technology Australia chief executive officer Catriona Jackson speaks about her career in politics, public affairs, tertiary education and journalism, in this Friends of the National Museum series.