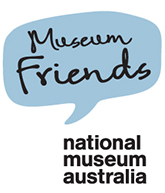 Contact
Membership enquiries
Tel +61 2 6208 5108
Tel +61 2 6208 5141
Member event bookings
Tel +61 2 6208 5021
General Friends enquiries
Tel +61 2 6208 5048
Email
friends@nma.gov.au
Connect

YouTube
Museum Friends benefits
At the Museum Friends, we endeavour to provide unique events, engaging programs and increased benefits for our Members. Your feedback is valuable to us and we're always happy to have a conversation. Email us at friends@nma.gov.au. We like to know what you enjoy most about our services and what we could do to better enhance your experience.
Benefits at the Museum
Exclusive previews and behind-the-scenes tours of all major exhibitions
Access to the Friends lounge
Access to the Museum's library
Telephone +61 2 6208 5112 for library access
Subscription to The Museum magazine
Regular Friends newsletter with upcoming events, discounts and exclusive benefits.
Reciprocal benefits
Discounts on ticketed exhibitions or general entry
Discounts at shops and cafes
Access to members lounges
Benefits at other museums and galleries
Discounts at the Museum
Free entry for children under 16 to exhibitions and programs for Full members
Discounted entry to events and exhibitions at the Museum
20% discount at the Museum Cafe
10-12.5% discount in the Museum Shop
2 for 1 entry to a paid exhibition for Essentials members
Museum Friend's Lounge
Relax in our Museum Friends Lakeside Lounge (ground level access) and enjoy free access to wi-fi and complimentary refreshments, seven days a week.