Warning: This website contains names and images of deceased Aboriginal and Torres Strait Islander people
Digital dome experiences
Immerse yourself in the stories of the Seven Sisters songlines under our six-metre, state-of-the-art dome. The Travelling Kungkarangkalpa Art Experience (below) features artworks, animations and vision of the sisters flying into the night sky, narrated by Shellie Morris.
The Travelling Kungkarangkalpa Walinynga (Cave Hill) Experience (below) transports you to this previously unfilmed Seven Sisters rock art site, accompanied by the voice of traditional owner Stanley Douglas.
Stunning artworks
Marvel at paintings, sculptures and other works by more than 100 artists from the Martu, Ngaanyatjarra, Pitjantjatjara and Yankunytjatjara lands of Australia's Central and Western deserts.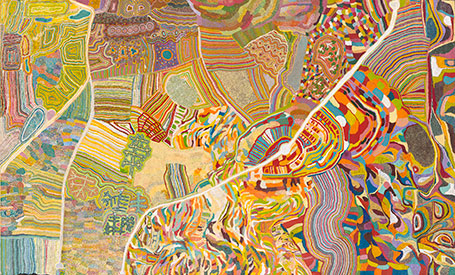 Seven Sisters audio journey
Connect with the Seven Sisters as they travel across the land pursued by a mischievous shape-shifter in this audio tour originally developed for the Songlines exhibition. Contains sexual references. Featuring Ursula Yovich, Alison Page and Duncan Smith.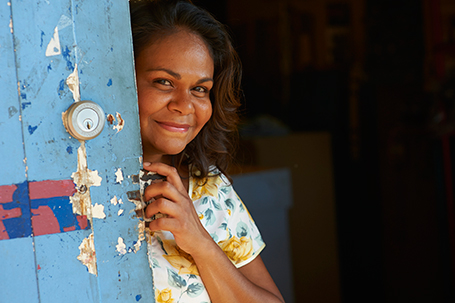 Seven Sisters interactives
The Seven Sisters story is one of pursuit and escape, desire and magic and the power of family bonds. Explore the remote rock art site at Walinynga (Cave Hill) and the story of the creation of the tjanpi figures Seven Sisters Are Flying.
Art centre hub
Experience our re-created art centre, with its profusion of colour, activity and culture. Meet artists from Tjanpi Desert Weavers, Martumili Artists, Maruku Arts and Warakurna Artists as they take up residence in Canberra for a series of demonstrations and workshops.
Visit our exhibition shop in the art centre hub at the back of the exhibition for paintings, baskets, sculptures and merchandise sourced directly from the art centres involved in Songlines.