Rome exhibition competition
Win a trip to Canberra
Entries close 11.59pm Thursday 20 September 2018
---
Buy your Rome: City and Empire tickets online before the exhibition opens and subscribe to our eNews to go into the draw to win a getaway for two with:
Return flights to Canberra from your nearest state capital
Two nights' accommodation at Hyatt Hotel Canberra, including daily breakfasts
$500 Museum Shop voucher
Rome: City and Empire exhibition catalogue.
Competition terms and conditions
Open to Australian residents aged 18 years or over who have purchased a Rome: City and Empire ticket online. The total prize is valued up to $2000. Authorised under NSW Permit No LTPS/18/25871
Read full terms and conditions
Win a trip to Canberra with your ticket to Rome
Information on how to enter & prizes forms part of these terms and conditions. Entry into the Competition is deemed acceptance of these terms and conditions and any entry not complying with these terms and conditions is invalid.
The Promoter is the National Museum of Australia, ABN 70 592 297 967, Lawson Crescent, Acton Peninsula, Canberra ACT 2601, Phone: 1800 026 132, Email: information@nma.gov.au
The Competition commences at 09:00 (AEST) Friday 13 July 2018 and closes 23:59 (AEST) Thursday 20 September 2018 ('the Competition Period'). Entries received after the Competition Period will not be accepted.
Entry to the Competition is open only to Australian residents aged 18 years or over and who have purchased a ticket online to the National Museum of Australia's exhibition Rome: City and Empire from the British Museum ('the Exhibition') on show from 21 September 2018 to 3 February 2019. Employees (and their immediate families) of the Promoter, Hyatt Hotel and Trade Promotion and Lotteries (TPAL) Pty Ltd, and their related agencies and suppliers associated with this Competition are ineligible to enter.
To enter the Competition, eligible participants must, during the Competition Period:
a. Purchase an Exhibition ticket online through http://www.nma.gov.au/rome;
b. Check the tick-box to confirm entry, acceptance of terms and conditions and subscription to the Museum's eNews on the transaction page; and
c. Provide the required details including full name, address, phone number, and email.
Entrants can only enter in their own name and using their own email address. Only one entry per transaction is permitted (if multiple tickets are purchased during the one transaction, this will count as one entry only).
The Promoter reserves the right to verify the validity of entries and to disqualify any entry that is not submitted in accordance with these conditions of entry. The Promoter may also disqualify any entrant who tampers with the entry process, who submits an entry that is not in accordance with these Competition terms and conditions or who has, in the opinion of the Promoter, engaged in conduct in entering the Competition which is fraudulent, unfair, misleading, deceptive or generally damaging to the goodwill or reputation of the Competition and/or the Promoter.
The Promoter, Hyatt Hotel, and Trade Promotions and Lotteries (TPAL) Pty Ltd, and their related agencies and suppliers assume no responsibility for any error, omission, interruption, deletion, defect, theft or destruction or unauthorised access to or alteration of entries.
All valid entries received will be provided to a third party electronic random draw operator, Trade Promotions and Lotteries (TPAL) Pty Ltd, who is authorised to draw trade competition lotteries electronically in Australia (in SA subject to and in accordance with the Lottery and Gaming Regulations 2008, Regulations 30(fa) and 31(h). Approval Number 1224). TPAL Pty Ltd can be contacted at 24/88 Pitt Street, Sydney NSW 2000 or via http://www.tpal.com.au.
Prize details: The first eligible entry drawn will win one (1) prize comprising:
a. Return economy flights for two people to Canberra departing the winner's nearest Australian capital city;
b. Two nights' accommodation for two people in a King Bed Room at the Hyatt Hotel Canberra, including daily breakfast;
c. One copy of the Rome: City and Empire exhibition catalogue;
d. One $500 gift voucher for the National Museum of Australia Shop (redeemable online on in-store).
The total prize is valued up to $2000. Total prize value is GST inclusive and in Australian dollars and is the retail value as provided by the suppliers prior to the commencement of the Competition Period. The Promoter accepts no responsibility for any variation in prize value. The prize cannot be exchanged and is not redeemable for cash. The prize cannot be used in conjunction with any other discounts or special offers. In the event that for any reason whatsoever a winner does not take an element of the prize or redeem the prize in full at the time stipulated by the Promoter then the winner will forfeit that element of the prize and cash will not be awarded in lieu.
The draw will take place on Tuesday 25 September 2018 at 14:00 (AEDT) at Level 2, 11 York Street, Sydney, NSW, 2000. One winner and a reserve winner will be drawn at random from the valid entries received. The Promoter will notify the winner by phone and email with information on how to claim the prize within five days of the draw date and the winner's name will be published on the Promoter's website and in The Australian newspaper on Tuesday 2 October 2018.
At the Promoter's discretion, the prize may be transferred to another named individual at the winner's request, provided written notice is received by the date specified in clause 14 of these Terms and Conditions. Transfer is conditional upon the recipient and their companion satisfying the Promoter requirements as specified in these terms and conditions.
In the event the winner does not claim or transfer the prize by Tuesday 9 October 2018 then they will forfeit the prize. The reserve winner will be notified by phone and email with information on how to claim the prize on Friday 12 October 2018 and their name will be published on the Promoter's website and in The Australian newspaper on Tuesday 16 October. If the reserve winner does not claim or transfer the prize by Tuesday 23 October then they will forfeit the prize and a redraw will not take place.
The Promoter reserves the right to request the winner to provide proof of age, identity, residency and/or Competition entry validity. The Promoter may request the winner to provide the Exhibition ticket receipt, matching the winner's entry details, identity and age. Proof of identification, residency and entry considered suitable for verification is at the discretion of the Promoter. The Promoter reserves the right to validate and check the authenticity of any prize claim or entry before awarding the prize.
The winner is responsible for all expenses not specified in the prize including but not limited to transport to and from the departing airport, spending money, meals that are not specified, drinks, transportation and parking, travel insurance, laundry charges, activities, incidentals, all other ancillary costs, and any other costs of a personal nature not stated.
The prize must be redeemed in full by 3 February 2019 and the following conditions apply:
Flights:
a. If the winner resides in the ACT, the flight portion of the prize will be forfeited and the winner will receive the accommodation, Museum Shop voucher and catalogue only.
b. The winner and their companion must travel together, departing only from Sydney, Melbourne, Brisbane, Darwin, Hobart, Adelaide or Perth.
c. Tickets are not transferable once booked;
d. Tickets are not eligible for frequent flyer points;
e. Tickets are for economy class only and cannot be upgraded;
f. Travel dates are subject to availability.
Accommodation:
g. Accommodation is subject to availability at the time of booking and block-out periods may apply;
h. A credit card is required upon check-in;
i. Room type is King Bed - room upgrades are permitted at an additional cost to the winner.
Museum Shop voucher:
j. Voucher valid until 30 June 2019
k. Voucher can be redeemed either online or in-store only.
The Promoter's decision in relation to any aspect of the Competition is final and binding on every person who enters and no correspondence will be entered into.
The Promoter collects personal information in order to conduct the Competition and for this purpose may disclose such information to third parties including accommodation providers, and the electronic random draw operator, and as required to Australian regulatory authorities. The winner's name will be published as outlined in these terms and conditions. By submitting your personal information and entering the Competition, you consent to the Promoter collecting, using and disclosing such personal information in accordance with these terms and conditions, our privacy policy (available at http://www.nma.gov.au/about_us/ips/policies/privacy_policy) and as permitted or required by law.
By entering this Competition, entrants are also subscribing to the Promoter's electronic news subscription service, and grant the Promoter permission to send future messages to their email address for the purposes described on the Competition information page and in our privacy policy. Entrants can unsubscribe from this service at any time.
If this Competition is interfered with in any way or is not capable of being conducted as reasonably anticipated due to any reason beyond the control of the Promoter, including but not limited to technical or supplier difficulties, unauthorised intervention or fraud, the Promoter reserves the right, to the extent permitted by law, to modify, suspend, terminate or cancel the Competition.
Authorised under NSW Permit No. LTPS/18/25871
---
Hyatt Hotel Canberra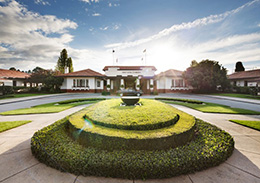 This heritage hotel interweaves the hidden mystique of the 1920s with modern Art Deco designs. With 252 rooms, including 13 suites and exclusive Ambassador Club Rooms, Hyatt Hotel Canberra combines traditional furniture styles, as well as garden and park views, with sleek technology.
Hyatt Hotel Canberra with its Park Hyatt touches proves this luxurious hotel is second to no other.