Now showing in Canberra
Old New Land: Australia's People and Environment is a National Museum of Australia gallery exploring Australia's environmental history.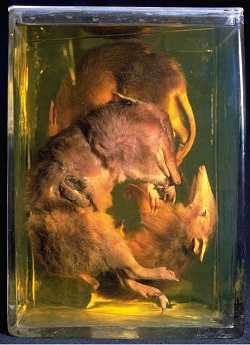 The Australian land mass was formed over many millions of years, yet the way we think and live in it is always evolving. Just as we shape the land, it shapes us, our experiences and our understanding.
The gallery's stories of land and people, climate, flora, fauna and ecology reveal how human histories are written on the land and how the continent's environments have shaped life in Australia.
Old New Land looks at three aspects of people's relationship to the land:
Encountering Australia examines ways European settlers reacted to and sought to change Australian environments that were strange to them.
Living with the Land deals with the development of different ways of life in response to the varied environments of Australia.
Understanding Australia considers how knowledge of the land and its history has changed over time.
Encountering Australia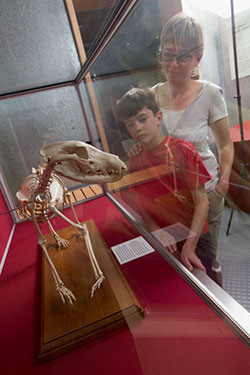 Buffalo catcher
Another of the objects on show in Old New Land is Tommy Fawcett's buffalo catcher.
The buffalo was introduced to supply meat to settlers in remote northern Australia in the late 1800s. It quickly became a feral species when these settlements were abandoned in the 1940s.
Efforts to eradicate the buffalo, which were damaging wetlands and carrying diseases dangerous to other animals, began in the 1980s.
Fawcett ran a buffalo catching team in western Arnhem Land, catching 10 to 20 animals a day, using this secondhand Toyota four-wheel-drive fitted with a bionic catching arm.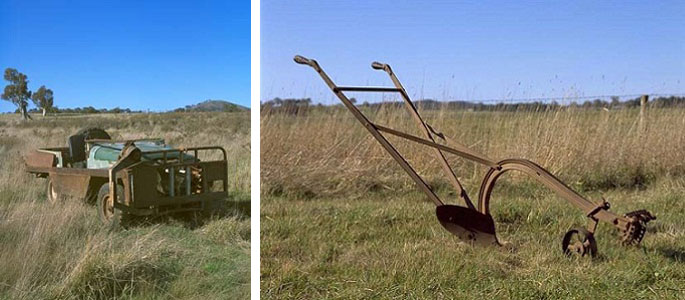 Living with the land
Europeans learned to use their lands over countless generations. In Australia, they translated lessons from the old world into new methods for a new land.
Dealing with Australia's soils, water, climate and fire was challenging — there were triumphs and tragedies. Sometimes, Indigenous practices offered models for the colonists.
In this part of the gallery, you can see exhibits about the development of pastoralism and agriculture in response to Australian environments, and explore how Australians have met the challenge of living inland with limited access to water.
Water and the Murray-Darling Basin classroom resource
William Farrer's plough
On show in Old New Land is a single-furrow horsedrawn 'colonial' plough used by William Farrer. This self-funded scientist developed wheat varieties that were disease resistant and better suited to Australian conditions.
Farrer used this plough in his wheat breeding experiments at Lambrigg, near Canberra, from 1885 to 1906.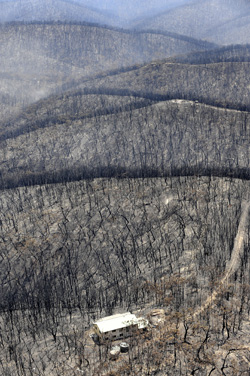 Firetracks
Old New Land also looks at fire in the Australian environment, exploring Indigenous use of fire and more recent bushfires.
The gallery examines the management and potentially devastating impact of fire with:
a replica dugout of the type used in the 1939 bushfires in Victoria
a burnt wheel from a firetruck caught in the Canberra 2003 fires, together with footage of those fires
a display on use of fire as a land management tool in the Northern Territory, and
a 'firepole' detailing the major bushfires which have occurred since European settlement, including the 1983 Ash Wednesday and 2009 Black Saturday fires.
More on the Museum's Black Saturday Victorian bushfires collection
Understanding Australia
Over time, we have developed new ways of understanding the land. We now know that the arid interior of Australia was once lush and wet. Where previously it was thought to be empty and unchanging, the land has also revealed a long and diverse history of peoples and cultures.
In this section of the gallery you can find out more about the diprotodon and Australia's extinct megafauna, how Indigenous people responsed to climate change in Kakadu over thousands of years, and the ways researchers have examined the history of environmental change in central Australia.
Today, people continue to learn about the land and deal with its environmental challenges. They also form attachments to places that are special to them — and Old New Land explores some of these personal stories of connection to place.
Diana Boyer artworks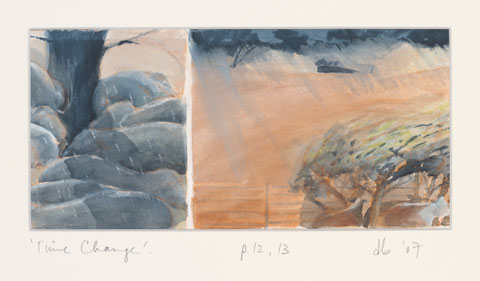 Between 1980 and 2007 Diana Boyer lived on a farm near the village of Binalong on the southwest slopes of New South Wales. The Museum holds a large collection of her paintings and sketches. These artworks record the engagement of Diana Boyer, a migrant from Argentina, with the ecological particularities of the Binalong district and with contemporary issues, including the implications of introducing genetically modified canola to Australia, and the possible consequences of global warming for Australian agriculture.
---