We are updating our new website in stages. This page will be changed to the new design but is not currently optimised for mobile devices.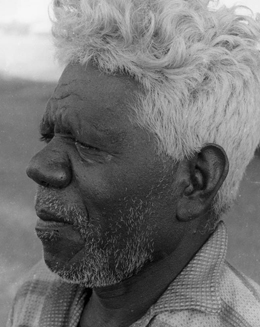 Daygurrgurr clan, Gupapuyŋu language, Yirritja moiety
1905–1980
Djäwa was a senior ceremonial leader and artist who was acutely aware of the need to document Gupapuyŋu culture to ensure its continuity.
He recorded songs with the ethnomusicologist Alice Moyle and played a major role in two documentary films by Cecil Holmes: Faces in the Sun (1963) and Djalambu (1964).
From 1960 his work was included in a number of historically significant exhibitions in Australia and overseas, and he is represented in major collections in Paris and Basel, and in the Kluge-Ruhe Collection at the University of Virginia.
See our video 'The work of Tom Djäwa', with reflections on Djäwa's work by his son, Joe Gumbala.
Paintings in the exhibition
Click on the images below to see a larger version and more information, including dimensions. Please note these images are not to scale.
---
All these bark paintings are part of the National Museum of Australia's collection. © the artist or the artist's estate, licensed by Aboriginal Artists Agency 2013, unless otherwise specified. These images must not be reproduced in any form without permission.
408879
408855
408859
408863
408867
408871
408875
408879
408883
408887
408891
408895
408899
408903
408907
408911
408915
408919
408923
408927
408931
408935
408939
408943
408947
408951
408955
408959
408963
408967
408971
408975
408979
408983
408987
408991
408995
408999
409003
409007
< Previous
Next >
Return to

Top