We are no longer updating this page and it is not optimised for mobile devices.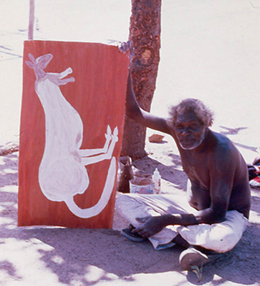 Born clan, Kuninjku language, Duwa moiety
1924–1987
Bardkadubbu rose to prominence as a painter in the late 1970s. He was tutored by Yirawala in the early 1970s when they shared outstations at Table Hill and Marrkolidjban, which both men had helped to establish. Later, he moved to Namokardabu, also in the Liverpool River region.
Bardkadubbu's work was selected for a number of major exhibitions in Australia and abroad, including: The Art of Aboriginal Australia, which toured North America from 1974 to 1976; and Aboriginal Art: The Continuing Tradition at the National Gallery of Australia in 1989. Bardkadubbu entered the first National Aboriginal Art Award, established by the Museum and Art Gallery of the Northern Territory in 1984.
Paintings in the exhibition
Click on the image below to see a larger version and more information, including dimensions. Please note this image is not to scale.
---
All these bark paintings are part of the National Museum of Australia's collection. © the artist or the artist's estate, licensed by Aboriginal Artists Agency 2013, unless otherwise specified. These images must not be reproduced in any form without permission.

408855
408855
408859
408863
408867
408871
408875
408879
408883
408887
408891
408895
408899
408903
408907
408911
408915
408919
408923
408927
408931
408935
408939
408943
408947
408951
408955
408959
408963
408967
408971
408975
408979
408983
408987
408991
408995
408999
409003
409007
Next >
Return to

Top