Landmarks multimedia
The Landmarks gallery includes audiovisual programs, touchscreen interactives, a large multitouch table, and a short animated film. You can explore some of the multimedia featured in the gallery via the links below.
Number 3 animation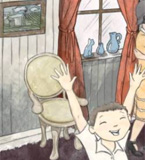 This short animated film tells the history of an inner city Brisbane house – 3 Lanham Street, Bowen Hills – during the late nineteenth and twentieth century, showing how it evolved over time and the families who called it their home during its 150 year history.
Read more about the Urban life exhibit in the Landmarks gallery
Exploring the world at Port Macquarie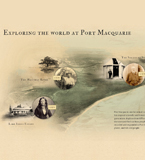 This interactive explores how three people – young artist, Annabella Innes, amateur astronomer, William MacDonnell, and agriculturalist, Thomas Dick – have investigated, recorded and responded to Port Macquarie's landscapes, plants, animals and people. From watercolour paintings of wild flowers, to star gazing, and investigating oyster culture, Port Macquarie has inspired scientific and historical inquiry for generations.
Launch the Port Macquarie interactive
Read more about the Port Macquarie exhibit in the Landmarks gallery
Flemington on Cup Day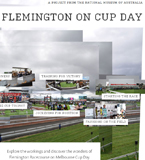 Never Enough Grass multitouch table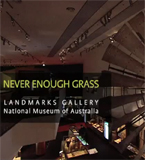 Never Enough Grass is a feature rich multitouch interactive where visitors can navigate through an animated interface to explore a diverse range of content and stories from locations that have played a key part in the development and expansion of the Australian pastoral industry.
Filled with 3D animations and models, sheep breeding and cattle herding games, video overlays of iconic fauna, and a playable piano, the Never Enough Grass interactive offers visitors of all ages an informative and playful experience.
Play the Never Enough Grass video
Read more about the Grazing the Grasslands exhibit in the Landmarks gallery
The Sunshine Harvester Works