Preparing a saint's relics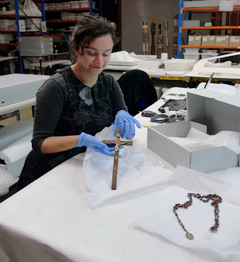 As pilgrims travel to the Vatican for Mary MacKillop's Canonisation, the National Museum is preparing some of her former possessions for an exhibit in the new Landmarks gallery.
The items are on loan from Mary MacKillop Place Museum, in Sydney, and will be used to tell the story of the establishment of the Sisters of St Joseph of the Sacred Heart, the first Catholic Order established in Australia.
The crucifix, dolor beads and handkerchief, as former possessions of Mary MacKillop, will officially become saint relics when she is canonised on 17 October 2010.
Mary Helen MacKillop was born on 15 January 1842, in Melbourne, the first of eight children of Scottish migrants Alexander and Flora MacKillop.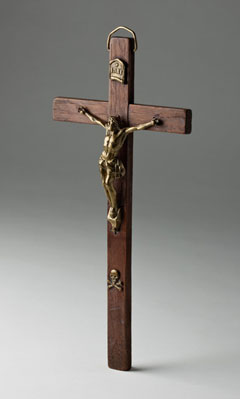 In 1860, MacKillop moved to Penola, in South Australia, to work as governess for the children of her Uncle Alexander and Aunt Margaret Cameron. It was there that MacKillop met Reverend Julian Tenison Woods who encouraged her to pursue the religious life she desired.
MacKillop and Woods founded, in 1866, the Sisters of St Joseph of the Sacred Heart, a religious order dedicated to providing education for poor Catholic children in remote areas of South Australia. By 1885, there were more than two hundred Sisters of St Joseph teaching throughout South Australia, Queensland, New Zealand and New South Wales. The Institute continued to expand, and today the Sisters of St Joseph live and minister throughout Australia, New Zealand, Ireland, Scotland, Peru, Brazil, and East Timor.
After a period of illness, MacKillop died on 8 August 1909. She was laid to rest in a grave at Gore Hill Cemetery. Her remains were moved and reinterred in a specially prepared tomb in the Mary MacKillop Memorial Chapel in January 1914.
MacKillop's path to canonisation began in 1925 when a Diocesan postulator was appointed to inquire into her life and sanctity. During the following decades, MacKillop's life and writing were studied and her personal possessions gathered by the Sisters.
In 1995 MacKillop was beatified by Pope John Paul II, and the collected evidence was transported to Rome for further investigations. In 2008 an inquiry was conducted into a miracle attributed to the intercession of Blessed Mary MacKillop, required for canonisation, which was approved by Pope Benedict XVI on 19 December 2009. On 19 February 2010 it was announced that Mary MacKillop would become Australia's first saint during an October ceremony in St Peter's Basilica, Rome.
For further information about Mary MacKillop and the Canonisation visit the ceremony website