Bullion box analysis
Unlocking the past
A mid-nineteenth century bullion box used to transport gold from the New South Wales goldfields to Sydney will be included in the 'Gold' module of Landmarks. The box's metal protective cover will also go on display.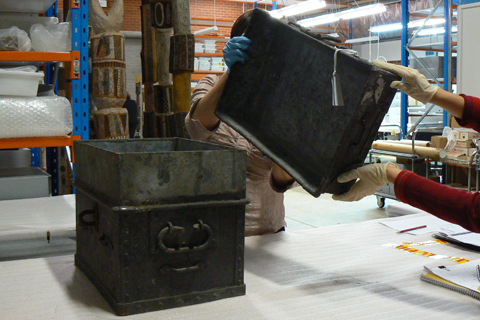 But there was one small problem – when the Museum purchased the box it was locked, and the collector from whom the box was acquired did not have a key.
Who can resist the fascination of a long locked door? Not us.
The Museum asked a Canberra locksmith to advise on whether a key could be fashioned for our box.
Possibly not, came the answer. Locks of this nature are extremely complex and 'highly pick resistant'.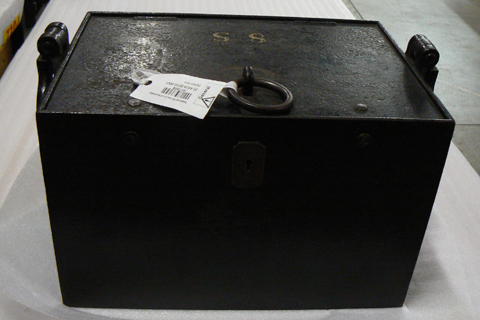 The box was made by, or for, the Sydney Mint, which was established in 1855 to manufacture coins out of the large amounts of gold being discovered in New South Wales after 1851.
Gold transports on their way to Sydney were subject to attack on lonely roads by bushrangers, and clearly even if someone were to succeed in carrying off a box like this, they would still have a lot of difficulty getting into it if they did not have a key.
In fact, even after 150 years of technological advance, it may still prove impossible for the National Museum of Australia to open this box.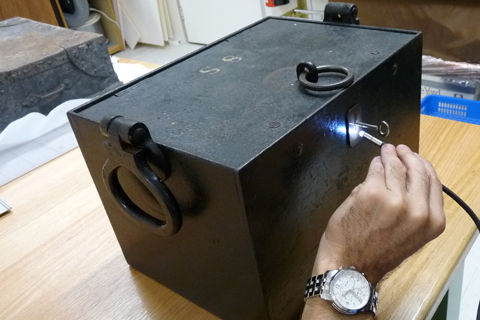 Clearly we cannot carry out work that might damage the box or the lock.
Undaunted, the Museum's curators and conservators are now being assisted by an historical locks expert in Adelaide.
We have not given up hope, although sometimes we think that there must be a long-dead Sydney locksmith chuckling at us, from somewhere beyond the grave.