Spirit of inquiry
Explores places in which Australians have investigated and sought to explain their place in the world.
Over many generations, Indigenous Australians developed a detailed knowledge of their local environments, but when the first European settlers arrived in Australia they found an unfamiliar and surprising new world. Individuals with curiosity and means explored their surroundings, developing studies in natural history, geology, astronomy and anthropology.
Over time, societies and universities were created to support a range of scholarly investigations, and governments began to invest in research to address economic and social problems.
Port Macquarie, on the mid-north coast of New South Wales, is known today for beachside holidays and sea change retirements. It is also a place where amateur scientific activity has flourished, particularly around astronomy, for over 160 years.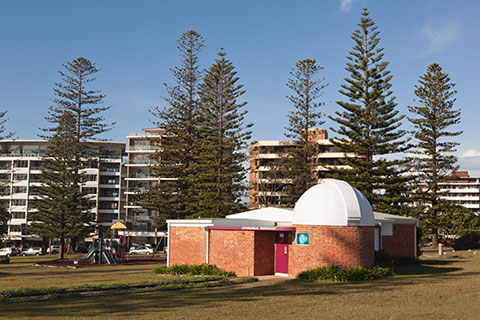 Three individuals who contribued to this reputation were Annabella Boswell, Thomas Dick and William John Macdonnell.
While living at Lake Innes House in the 1840s Annabella Boswell made a detailed record in her journal of the appearance of the Great Comet of 1843. She also painted and described the local wildflowers.
Between 1910 and 1927 amateur scientist and oyster culturist, Thomas Dick, documented the traditional culture of the Birpai Aboriginal people in photographs taken on Port Macquarie's beaches, waterways and surrounding mountains.
Behind one of the town's banks, William John Macdonnell built an observatory in the 1880s and viewed the movements of planets and stars in the night sky with his Grubb six-inch refractor telescope. Astronomy in Port Macquarie continues today at the Port Macquarie Astronomical Association's Observatory, located above Town Beach.
More
Launch the Exploring the world at Port Macquarie interactive
WJ Macdonnell's telescope
This Grubb six-inch refractor telescope, manufactured by Thomas Grubb's Astronomical Instrument Works in Dublin, Ireland in 1883, comprises two lenses of around 15 centimetres or six inches in diameter.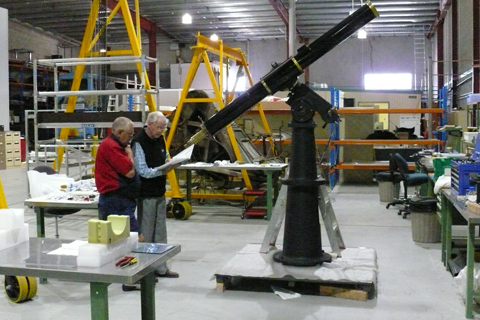 Macdonnell, an amateur astronomer and bank manager, installed it in his personal observatory behind the Bank of New South Wales in Port Macquarie.
He used it from the 1880s to the mid-1890s to carry out a range of observations which helped him to become one of Australia's most respected amateur astronomers.
Macdonnell was forced to sell the telescope in the 1890s and it was owned by a series of amateur astronomers, including Sydney architect EH Beattie, who also used it to obtain data for scientific papers.
The telescope was placed in storage in 1921, and was acquired by the National Museum in 2005. It has been returned to its 19th-century working condition and is on show in Landmarks.
More
Macdonnell's telescope collection highlight
Port Macquarie field research Flickr images

Download 'The "Spirit of Inquiry" in Port Macquarie' curator's talk

Download 'Heavens above!' curator's talk

In the footsteps of Annabella Boswell at Port Macquarie (PDF 356kb)
Friends magazine, Volume 20, No 2, June 2009
Townsville, Queensland
The Australian Institute of Tropical Medicine, the first medical research institute in Australia, was established in Townsville in northern Queensland in 1910. In its first 10 years the institute's staff investigated diseases such as dengue fever, malaria and yaws, surveyed the health of Aboriginal communities and taught tropical medicine.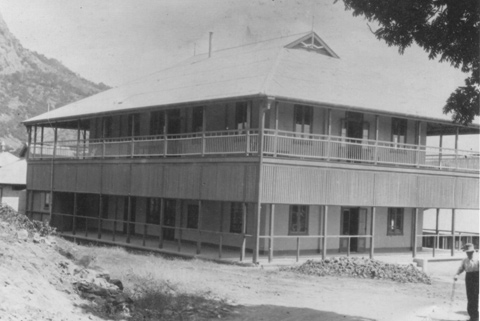 The institute was opened in a small, three-roomed wooden building behind the Townsville hospital.
Austrian-born Anton Breinl arrived from London to take up the directorship, bringing with him books and equipment to fit out the laboratory.
By 1913, a new building had been constructed, and Breinl and his assistant John Fielding were joined by entomologist Frank Taylor, biochemist William Young, parasitologist William Nicoll and bacteriologist Henry Priestly.
The institute's young staff became leaders in their fields, studying diseases in Australia, Papua New Guinea and neighbouring islands. They treated patients, mapped disease patterns, and collected and identified new infection-carrying parasites and insects. Some of these were named after institute staff, including Breinlia trichosuri and Rhabdiopoeus taylori.
Between 1910 and 1930, more than 90 staff and visiting scholars worked at the institute. They published hundreds of research papers, articles and books on subjects from mental health to nutrition and parasitic infections, as studied in the particular conditions of Australia's tropical north and neighbouring Papua New Guinea. The institute was involved in numerous international research programs, including the Hookworm Control Campaign, a joint effort between the Rockefeller Foundation, the institute and the Queensland government health authorities.
In 1930, the institute was relocated to the University of Sydney, despite arguments that it should remain close to its subject of study. Over 50 years later, James Cook University re-established the institute in Townsville. Today, the institute, renamed the Anton Breinl Centre, studies and teaches about public health problems in tropical Australia and its near neighbours, with a special focus on rural and regional Indigenous communities.
Laboratory equipment
A collection of 108 items of laboratory equipment from the School of Public Health and Tropical Medicine, into which the institute was incorporated when it was relocated to the University of Sydney, was donated to the National Museum of Australia in 1986.

Thirty of those items were originally used in the institute in Townsville. Some of them were probably transported from London when Breinl took up his post as director. The collection offers valuable insight into the work of the institute and the communities which it served.
Australian National University, Canberra, Australian Capital Territory
In early 1946 the federal government passed legislation establishing the Australian National University in Canberra. The university was designed as a centre for advanced research and study, mandated to 'improve Australia's understanding of itself and its neighbours, and to contribute to economic development and social cohesion'.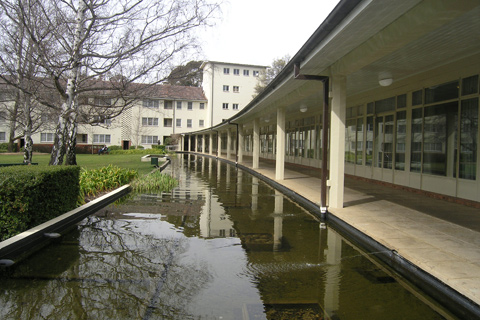 Walter Burley Griffin and Marion Mahoney Griffin's 1912 design for Canberra set aside land beside Lake Burley Griffin for a national university. When the first scholars arrived, the site was still an empty paddock with a shed or two. Initially, four research schools, in medical, physical and social sciences and Pacific studies, were created.
In 1950 anthropologist WEH Stanner arrived from the University of Sydney to take up an appointment at the Australian National University as Reader in the Department of Anthropology and Sociology. He was later appointed Chair of Anthropology in the Research School of Pacific Studies and Head of the Department of Anthropology and Sociology. He remained associated with the Australian National University until his death in 1981.
Stanner's research focused on the Murrinh-patha people, who live at the community of Wadeye, previously the Port Keats mission, in the Northern Territory. He made repeated field trips to the region, seeking to understand Aboriginal culture through observation, interviews and collections. Stanner was instrumental in establishing the Australian Institute of Aboriginal Studies and worked widely to develop governmental policies that recognised Indigenous people's rights and addressed their relationship with their country.
Bark painting by Albert Muta
During his visits to Port Keats, Stanner collected bark paintings from a number of artists and took them back to Canberra. He used these paintings as part of his continuing research into Aboriginal religion and symbolism.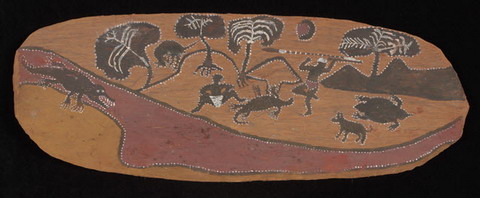 Paintings like these were made for sale through the mission at Port Keats.
They were often executed on oval-shaped pieces of bark, a shape that the Murrinh-patha people associated with a bullroarer or a shield.
This painting, showing men, dogs and other animals beside a river, was created by one of Stanner's informants, Albert Muta. Muta was a Murrinh-patha man from Port Keats.
He became Stanner's friend and informant. He explained to Stanner the difficulty non-Indigenous people have understanding 'the Dreaming':
White man got no Dreaming, him go 'nother way him go different. Him got road belong himself.
Stanner was the first European-Australian scholar to popularise the term 'Dreaming' to refer to the creation and character of the physical, spiritual, social and moral worlds of Aboriginal people.
Stanner used Muta's words for the title of his collected essays, published as White Man Got No Dreaming in 1979. Muta's words and photograph were also included on the title pages of the book.
More
Other Stanner material in the National Historical Collection