WARNING: Visitors should be aware that this website includes images and names of deceased people that may cause sadness or distress to Aboriginal and Torres Strait Islander peoples.
Land of opportunity
Introduces places Australians have built as they have worked for equal opportunity.
Many people have imagined Australia as a land of opportunity, a country in which they can earn a decent living, enjoy the chance to better themselves and participate in shaping their community.
Different groups often look to governments to recognise or protect their rights as members of a just society, and, over time, a 'fair go for all' has become a catchcry of public debate in Australia.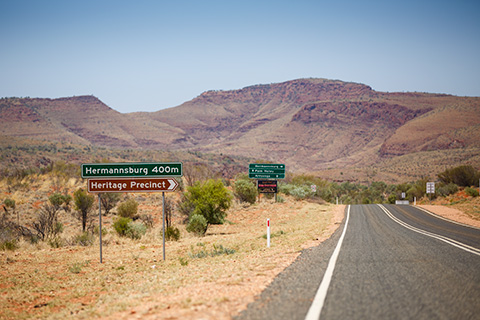 In 1877, a Lutheran mission was established at Ntaria, beside the Finke River, west of Alice Springs. The immigrant party named this settlement Hermannsburg, after the society in Germany that trained them.
In 1982, Ntaria and its surrounding lands were handed back to the traditional owners.
In 2016, Ntaria is known as a centre for Aboriginal art and music and is home of the Hermannsburg School of Art founded by Albert Namatjira.
Albert Namatjira
Born at Hermannsburg in 1902, Elea, later christened 'Albert', attended the mission school until his traditional initiation at the age of 13.
He left the mission at 18 to work and marry Loritja woman Ilkalita (christened Rubina), and returned with his family in 1923.
Albert worked as a blacksmith, stockman, cameleer, and briefly as an evangelist, before making souvenirs and then paintings for sale at the mission. Namatjira was tutored in watercolour painting by artist Rex Battarbee in the 1930s.
Hermannsburg School of Art
Namatjira found a way to depict his country and remain within it, becoming famous at a time when Aboriginal people could not travel freely, own property or receive award wages.
Although his work was considered 'non-traditional', Albert Namatjira taught his family and kin to paint, forming a new practice through generations of the Namatjira, Pareroultja, Raberaba, Inkamala and other families. Their work is known today as the Hermannsburg School of Art.
Albert Namatjira died in 1959. His descendants continue his legacy, working in acrylic, watercolour, pottery, song and film, using their art to provide opportunities to keep their culture strong.
'Landscape from Central Australia' by Lenie Namatjira
Lenie Namatjira is a daughter of Albert and Rubina Namatjira's second son, Oscar. Born in 1951 and raised at Ntaria, Lenie started painting at the mission school and learnt by watching her father, uncles and cousins.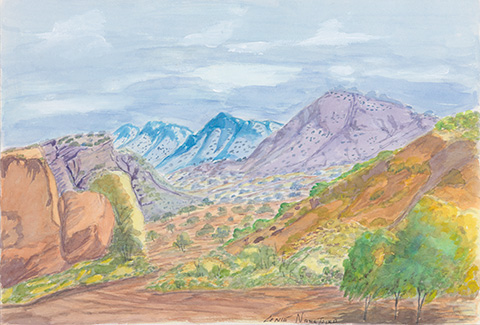 Sunshine, Melbourne, Victoria
For 80 years, Sunshine, in Melbourne's industrial west, was home to the major agricultural implements factory, the Sunshine Harvester Works.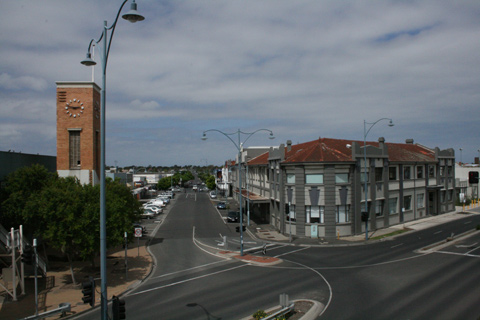 In 1906 industrialist Hugh Victor McKay relocated his Sunshine Harvester Works from Ballarat to Braybrook Junction, a small village outside Melbourne. Many of the local Ballarat workers followed.
By 1907 McKay's Harvester Works had come to dominate the area. Braybrook Junction was renamed Sunshine, after the factory.
As well as building a successful factory, McKay established a housing estate at Sunshine. Here his employees could buy houses and enjoy community facilities such as gardens, tennis courts and a church.
The streets were lined with trees and electricity was supplied to the housing estate from the factory.
Sunshine harvester
This Sunshine stripper harvester was one of 2161 made at the Sunshine Harvester Works in 1911. It is a horse-drawn wood-framed harvester with a five foot (or 1.5 metre) comb.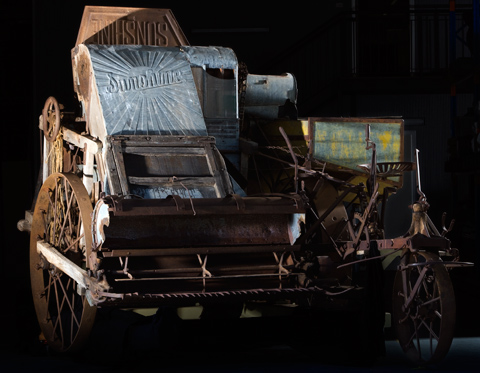 McKay did not invent the idea of a stripper harvester, a machine which could strip, thresh and harvest crops in one operation, but his Sunshine model was among the first commercially successful stripper harvesters.
By the 1920s the factory was the largest agricultural implements manufacturer in the southern hemisphere, employing over 2500 workers. As well as the Sunshine harvester, the works also manufactured other agricultural implements, supplying to farmers across Australia and the world.
The exhibition also includes a steam whistle which signalled the start and end of the factory's working day.
More
Explore 'The Sunshine Harvester Works' online feature

Download 'The Sunshine harvester' curator's talk

Download the Sunshine harvester object biography (PDF 181kb)

Download the steam whistle object biography (PDF 183kb)
Old Parliament House, Canberra, Australian Capital Territory
John Smith Murdoch's drawing instruments
Old Parliament House, the provisional parliament house for the Commonwealth of Australia from 1927 until 1988, is a recognisable symbol of the formation and development of Canberra as the nation's capital.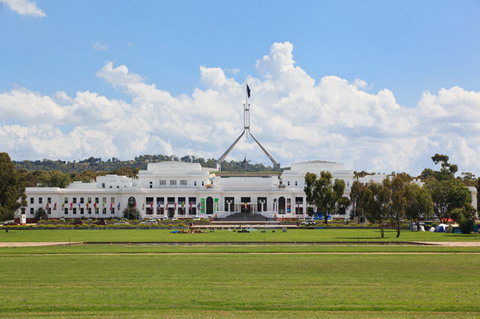 Designed by government architect John Smith Murdoch, the building's utilitarian and symmetrical plan incorporated a series of complex structural and symbolic changes over its decades of use.
Through correspondence, the passing and enactment of legislation, the operation of elections and referendums, parliamentary reporting and various forms of advertising, Old Parliament House has been connected to people and places across Australia by its role as the centre of the powers of the Commonwealth Government.
The people of Australia have looked to parliament in Canberra to ensure the creation of a just society in which all citizens enjoy equality of opportunity. They have also used their ability to participate in shaping their society through votes, petitions and protests. Many have visited Old Parliament House as a way of identifying what it means to be an Australian citizen, in the very building in which many of those conditions were determined.
More

Download 'Parliament for the people' curator's talk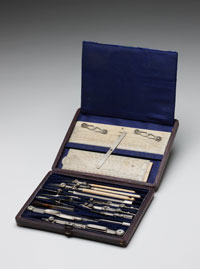 John Smith Murdoch's drawing instruments
This set of 15 drawing instruments was owned by John Smith Murdoch, who designed more than 120 buildings and public spaces in Australia.
In 1923 Murdoch was given the task of designing a temporary parliament house in the nation's capital, until a suitable design and sufficient funds could be found for a permanent building.
Murdoch's classical design for the provisional Parliament House reflected his training in Glasgow, earlier work in Australia, and visits to parliamentary buildings around the world.
The building was used until 1988 when a new permanent building was opened. Today it is a heritage-listed site known as Old Parliament House.
More
John Smith Murdoch instruments collection highlight

Download the John Smith Murdoch instruments object biography (PDF 75kb)