Land of opportunity
Introduces places Australians have built as they have worked for equal opportunity.
Many people have imagined Australia as a land of opportunity, a country in which they can earn a decent living, enjoy the chance to better themselves and participate in shaping their community.
Different groups often look to governments to recognise or protect their rights as members of a just society, and, over time, a 'fair go for all' has become a catchcry of public debate in Australia.
Sunshine, Melbourne, Victoria
For 80 years, Sunshine, in Melbourne's industrial west, was home to the major agricultural implements factory, the Sunshine Harvester Works.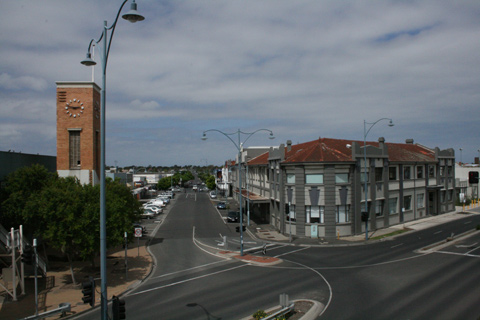 In 1906 industrialist Hugh Victor McKay relocated his Sunshine Harvester Works from Ballarat to Braybrook Junction, a small village outside Melbourne. Many of the local Ballarat workers followed.
By 1907 McKay's Harvester Works had come to dominate the area. Braybrook Junction was renamed Sunshine, after the factory.
As well as building a successful factory, McKay established a housing estate at Sunshine. Here his employees could buy houses and enjoy community facilities such as gardens, tennis courts and a church.
The streets were lined with trees and electricity was supplied to the housing estate from the factory.
Sunshine harvester
This Sunshine stripper harvester was one of 2161 made at the Sunshine Harvester Works in 1911. It is a horse-drawn wood-framed harvester with a five foot (or 1.5 metre) comb.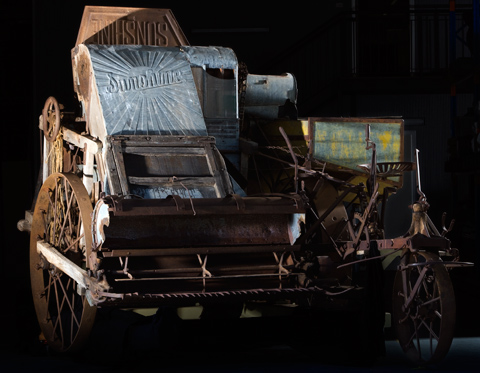 McKay did not invent the idea of a stripper harvester, a machine which could strip, thresh and harvest crops in one operation, but his Sunshine model was among the first commercially successful stripper harvesters.
By the 1920s the factory was the largest agricultural implements manufacturer in the southern hemisphere, employing over 2500 workers. As well as the Sunshine harvester, the works also manufactured other agricultural implements, supplying to farmers across Australia and the world.
The exhibition also includes a steam whistle which signalled the start and end of the factory's working day.
More
Explore 'The Sunshine Harvester Works' web feature

Download 'The Sunshine harvester' curator's talk

Download the Sunshine harvester object biography (PDF 181kb)

Download the steam whistle object biography (PDF 183kb)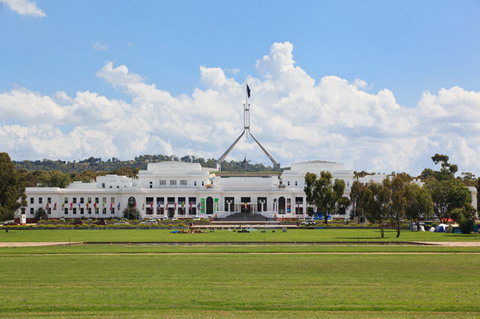 Designed by government architect John Smith Murdoch, the building's utilitarian and symmetrical plan incorporated a series of complex structural and symbolic changes over its decades of use.
Through correspondence, the passing and enactment of legislation, the operation of elections and referendums, parliamentary reporting and various forms of advertising, Old Parliament House has been connected to people and places across Australia by its role as the centre of the powers of the Commonwealth Government.
The people of Australia have looked to parliament in Canberra to ensure the creation of a just society in which all citizens enjoy equality of opportunity. They have also used their ability to participate in shaping their society through votes, petitions and protests. Many have visited Old Parliament House as a way of identifying what it means to be an Australian citizen, in the very building in which many of those conditions were determined.
More

Download 'Parliament for the people' curator's talk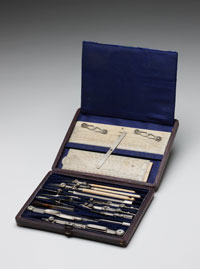 John Smith Murdoch's drawing instruments
This set of 15 drawing instruments was owned by John Smith Murdoch, who designed more than 120 buildings and public spaces in Australia.
In 1923 Murdoch was given the task of designing a temporary parliament house in the nation's capital, until a suitable design and sufficient funds could be found for a permanent building.
Murdoch's classical design for the provisional Parliament House reflected his training in Glasgow, earlier work in Australia, and visits to parliamentary buildings around the world.
The building was used until 1988 when a new permanent building was opened. Today it is a heritage-listed site known as Old Parliament House.
More
John Smith Murdoch instruments collection highlight

Download the John Smith Murdoch instruments object biography (PDF 75kb)
Ben Chifley election campaign badge
Labor politician Ben Chifley became Australia's 16th prime minister in 1945. Chifley, often seen with a pipe in hand, established a respected reputation as a hardworking man of the people.
Chifley's approach to securing social welfare for all Australian citizens received widespread support. His election platform in the 1946 and 1949 campaigns was 'Chifley spells security' – something that Australians were eager to achieve in the postwar environment.
As prime minister and treasurer, Chifley increased federal government control over social services and continued wartime rationing restrictions.
When Chifley stood for re-election in 1949, his government felt the pressure of continued rationing, bank nationalisation policies and a long dispute over coal mining.
The expected postwar economic depression had not eventuated, and popular opinion suggested that Chifley's election motto did not match the views of the Australian middle class ready to enjoy the new prosperity available to them.
Despite Chifley being considered one of Australia's most loved prime ministers and the perception that his government's policies were central to Australia's postwar boom, his government lost the 1949 election and Labor did not return to office until 1972.
More
Robe primary school banner and bell
Robe is a town and fishing port in Guichen Bay on the Limestone Coast of South Australia. It was named after the fourth Governor of South Australia, Frederick Holt Robe, when founded in 1845 and proclaimed as a port in 1847.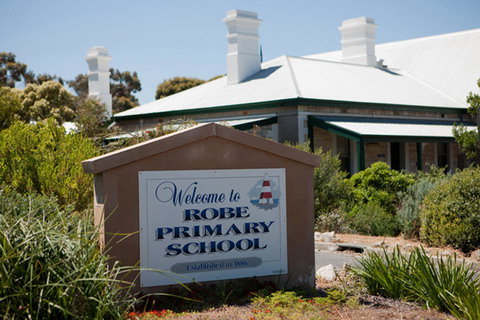 A thriving port in the 1850s and 1860s, Robe was home to a population of several hundred, including people of many different faiths and backgrounds. Various schools existed in Robe between 1850 and 1890, several private, some denominational and others organised or funded by the colonial government.
During the late 19th century, towns across Australia were affected by debate over the provision of education between religious and secular authorities, which in the end centred on attendance numbers and funding opportunities.
A new government school building was opened in Robe in 1886 after the closure of other schools in the town and a long campaign by local residents to secure a suitable school building and program for their children.
More

Download 'Robe is not famous for robes' curator's talk
Robe Primary School banner and bell
Activities and symbolism at Robe Primary School have always had strong associations with the town's natural and man-made coastal features, and related industries.
The town's historic coastal marker, the red and white obelisk, has been used as the primary school emblem for as long as anyone can remember. The obelisk is also used as the district council emblem, and for a variety of other local organisations.
This banner was made by two local women in 1986, 100 years after the school was built. Both women had children at the school and one was from a family with multi-generational ties to the school.
The banner and a bell used at the school for many years, believed to have been salvaged from the Dutch vessel Koning Willem II, wrecked off the coast of Robe in 1857, were on display in Landmarks from 2011 to 2015.
More

Download the Robe Primary School bell object biography (PDF 143kb)