Caution: This website includes images and names of deceased people that may cause distress to Aboriginal and Torres Strait Islander peoples.
---
Performance as past and future
Music, dance and storytelling
Life without culture is a life without life. Past must exist for present to create the future.
Adhi Ephraim Bani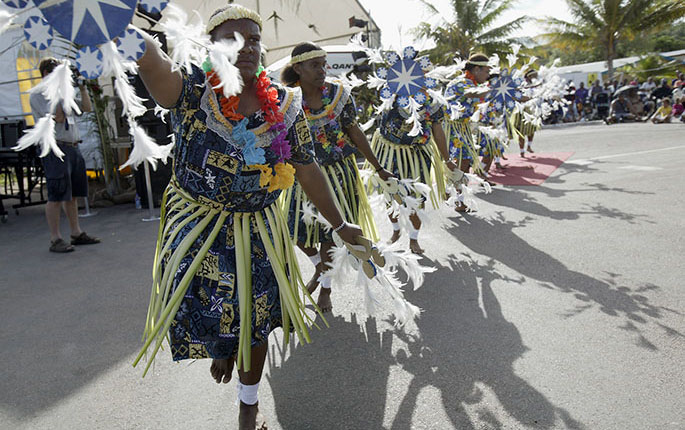 Music, dance and storytelling are alive and strong in contemporary Torres Strait culture. Before the coming of Christianity, performance reflected the cultural and geographical diversity across the islands. Ritual song and dance were regularly performed for all types of ceremonies.
Island dance and contemporary headdresses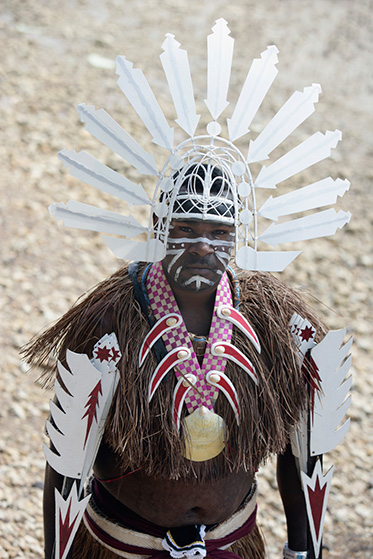 The arrival of marine workers and then missionaries, most of whom were from the South Sea Islands, introduced new traditions into the Torres Strait's western Melanesian culture. At the same time, pre-Christian music and dance traditions were actively discouraged.
In the early 20th century, Islanders developed a hybrid form of these different styles called ailan dans, kabkab and girel (Yumplatok, Meriam Mir and Kala Lagaw Ya words for 'island dance'). This form dominates contemporary Torres Strait dance today.
I dance, to carry on my culture.
Ken Thaiday Snr
Ken Thaiday's articulated headdresses, or dance machines, are modern interpretations of the traditional turtle-shell masks made in the Torres Strait for hundreds of years. Beizam, meaning 'shark' in the Eastern Islands language of Meriam Mir, is the artist's key totemic animal and a symbol of law and order among his people.
Thaiday has said this symbolism is 'necessary and appropriate [for] the maintenance and transmission of traditional culture in the youth of today'.