Caution: This website includes includes images and names of deceased people that may cause distress to Aboriginal and Torres Strait Islander peoples.
---
Fishing and hunting
Harvesting the sea
Fishing was integral to how Torres Strait Islanders came to understand their environment and earned status within society. Shallow waters, complex reef systems and seagrass beds created an abundant marine ecosystem that provided a large proportion of the Islanders' diet.
More than 450 species of marine animals were harvested using a variety of techniques, including the use of bamboo fish scoops, harpoons, spears, hook-and-line methods and nets woven from local fibres. People also gathered by hand from reefs, lagoons or intertidal stone-walled fish traps.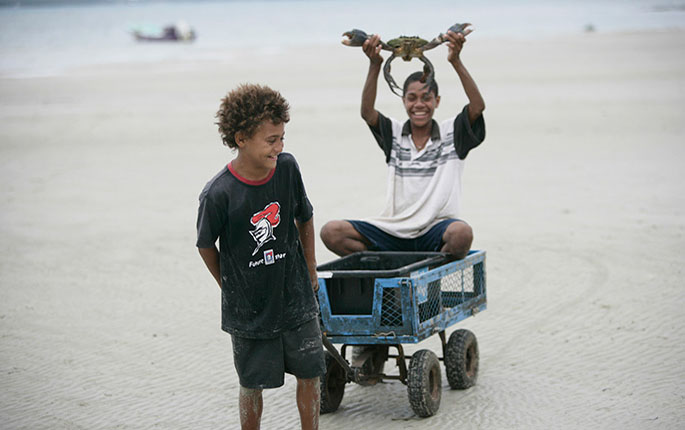 Hunters of the reef
The dugong and turtle are intrinsic parts of Torres Strait culture. They are a popular subject of local myths and legends, and a favoured item of the Islander diet. The average dugong yields 255 kilograms of meat, while a turtle supplies 155 kilograms. Islanders have developed sophisticated dugong and turtle hunting and management techniques.
Dugongs are more prevalent in the seagrass beds of the Near Western and Inner islands, but turtles are found on reefs and beaches across the Torres Strait. Today, dugongs are a protected species, although limited traditional hunting is permitted for Aboriginal and Torres Strait Islander peoples.