Caution: This website includes images and names of deceased people that may cause distress to Aboriginal and Torres Strait Islander peoples.
---
European contact
Contact and upheaval
They chase away them warship. You go put this one in a book. It's true he been win that battle.
Great-great-great-granddaughter of Kebisu, 1980s
The Torres Strait's abundant fisheries and location on major shipping channels encouraged European interest in the region. The story of a 1792 encounter with British vessels foreshadows the tumultuous relationship between Europeans and Islanders that ensued for most of the 19th century.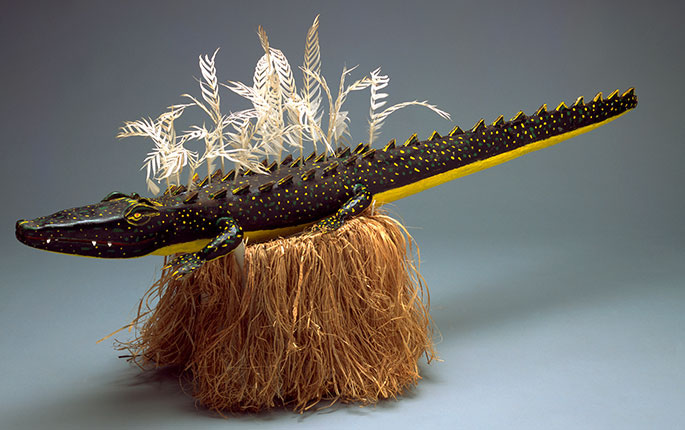 Confrontation with the Royal Navy
On 10 September 1792, the British vessels HMS Providence and HMS Assistant, with Captain William Bligh in command and midshipman Matthew Flinders on board, arrived near Giaka in the Central Islands. Nine large canoes under the command of Kebisu, a Tudu elder, paddled towards the ships. Captain Bligh recorded the ensuing confrontation in his journal:
I saw the Assistant suddenly fire at some of the canoes, as did our cutter and she alarmed us by the signal she made for assistance … It was not a time to trifle … I settled it by discharging two of the quarter-deck guns with round and grape. The contents of one brought horrible consternation to them and they fled from their canoes.
No-one today can be sure why the Islanders attacked, but they left a lasting impression on Royal Navy commanders. Flinders noted in 1814 that when he travelled again through the Torres Strait 'the marines were therefore kept under arms, the guns clear and the matches lighted'.