Caution: This website includes images and names of deceased people that may cause distress to Aboriginal and Torres Strait Islander peoples.
---
Christianity
The Coming of the Light
The Coming of the Light is the commemoration of the arrival of Christianity in the Torres Strait, an event that is still celebrated today across the region.
On 1 July 1871, the Reverend Samuel McFarlane and South Sea Islander evangelists landed on Erub (Darnley Island) to commence the London Missionary Society's work in the Torres Strait. The event proved a turning point in the Islanders' way of life, with Christianity quickly becoming the dominant religion in the region.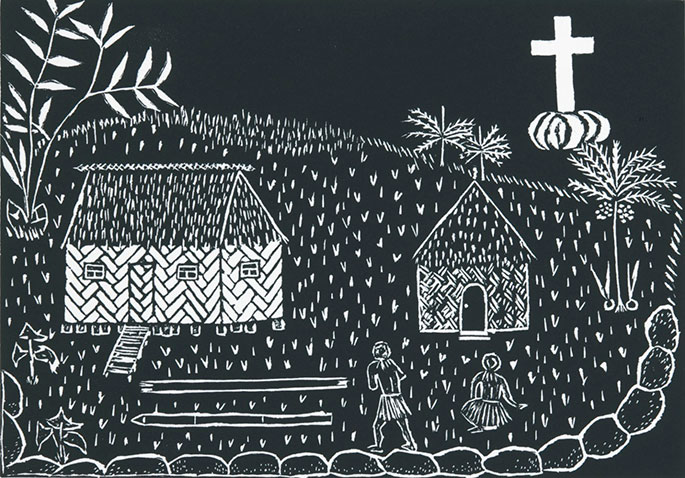 Religion and identity
In 1865, six years before the Coming of the Light, South Sea islanders and some Europeans had started to arrive in the Torres Strait to work in the bêche-de-mer (trepang or sea cucumber) industry and, later, the pearl and trochus shell industries. Many of the missionaries after 1871 were from the same islands as these marine workers. Together they began to dominate local affairs and, along with white evangelists, brought about immense cultural change.
The London Missionary Society stifled traditional religious activity and promoted Western customs, while the South Sea Islanders, through intermarriage and dominance in the missionary and marine labour force, integrated their own traditions with those of the Torres Strait. At the same time, the mission protected Torres Strait Islander communities from corrupt marine harvesters and represented them in the Queensland Government and judicial systems, which were newly established in the region.
The London Missionary Society's style of conversion allowed aspects of Islander spirituality to be incorporated into its ceremonies. For example, priests permitted churchgoers to accompany Christian services with traditional, long, hourglass-shaped drums called warup.