WARNING: Visitors should be aware that this website includes images and names of deceased people that may cause sadness or distress to Aboriginal and Torres Strait Islander peoples.
---
Welcome Space
Immerse yourself in the interactive and sensory displays in our new First Australians gallery Welcome Space. Deepen your understanding of country, hear personal stories of connection to country across Australia and learn about the knowledge embedded in objects.

Welcome to country
Standing in someone's country is equivalent to standing in someone's home. The Ngunnawal, Ngunawal and Ngambri peoples are the traditional custodians of the Canberra region and see themselves as responsible for the cultural and spiritual welfare of all those who live on, and pass through, their country. Visitors participate in the story of country by being present and acknowledging the welcome.
Watch videos of local people sharing their stories
Ngambri man Daniel Williams on ceremonial dancing
Ngunnawal/Wiradjuri man Fred Monaghan on his family history
Ngunnawal man Adrian Brown on smoking ceremonies
Digital interactive artwork
Leaving Your Mark on Country (pictured above) reveals different aspects of Canberra as visitors stand quietly in the space. Graffiti artist Libby Harward was inspired by her time in Canberra with the host nation people: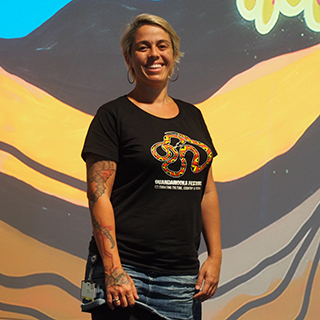 'This artwork is a visual communication of First Peoples' connection to country, to each other and all living things. It's a connection that asks you to slow down and become consciously aware of your present. Experience more deeply the country where you stand and how you affect it.
'You will witness the connection between you, the grass seeds, caves, scar trees, pregnant mountains, ochre, rivers, meeting places, valleys and waterholes.
'When you engage with this artwork you will be a part of the life-cycle of the grasses and weave into the journey of the bogong moth flying its songline and being cooked up for a feed.'
Message sticks
Visitors can wander through 20-plus message sticks, seeing differing types of country across Australia, and hearing Aboriginal and Torres Strait Islander peoples speaking about their connection to country. These two-metre high message sticks are a modern interpretation of the tradition of small, wooden sticks carried by messengers who travelled across, and represented themselves in, other peoples country.