WARNING: Visitors should be aware that this website includes images and names of deceased people that may cause sadness or distress to Aboriginal and Torres Strait Islander peoples.
---
Gallery tour
Here you can take a virtual tour of the displays and read more information about the stories found in the First Australians gallery.
The upper level of the gallery features a rich array of exhibitions about specific Indigenous communities. The lower level of the gallery focuses on aspects of Aboriginal and Torres Strait Islander history since 1788.
Image Gallery Page Navigation
Page 5 of 5
Lockhart River
Upper gallery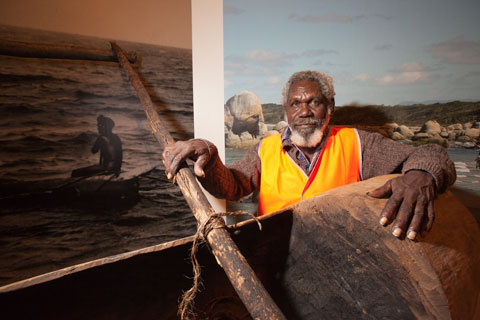 Photo: George Serras.
Lockhart River is home to the Pama Malngkana or Sandbeach people. The town lies on a narrow coastal strip between two of Australia's great geographical features: the Great Barrier Reef to the east and the Great Dividing Range to the west. It is the most northerly town on eastern Cape York Peninsula.
Its extreme remoteness, combined with an annual rainfall of about 200 centimetres, which washes away roads and isolates the town for months at a time, makes life difficult. But, Sandbeach people celebrate the beauty and diversity of their place, and the richness of its natural resources, including fish, turtle, dugong, shellfish and a wide variety of plant foods.
The exhibit on display gives a glimpse into aspects of life for the people of Lockhart River, from the time of the Anglican Mission at Ba'il (Bare Hill) near Cape Direction to the present, and to the intricacy of some of the material culture still practiced and new aspects of cultural life and expression.
Lockhart River man Patrick Butcher is pictured in the gallery with a canoe on loan from the University of Queensland's Anthropology Museum.
Lockhart River Aboriginal Shire Council