WARNING: Visitors should be aware that this website includes images and names of deceased people that may cause sadness or distress to Aboriginal and Torres Strait Islander peoples.
---
Behind the scenes
Ken Colbung shares his story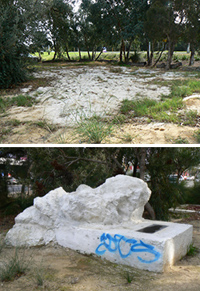 In June 2007 National Museum curator, Kipley Nink, visited Perth to meet Noongar elder Ken Colbung.
Ken took Kipley to a special plot of land that the Colbung family maintains in the Joondalup region, in Perth's northern suburbs. The location is important as the site of the grave of Bennee Yowlee, a renowned spiritual man.
Ken did some gardening work while talking about the recent history of this place. He recalled that the gravesite had been under threat by development due to its proximity to shops and major roads. But he was able to negotiate with the local developer to leave this slice of Noongar history undisturbed. Not only did the developer agree, he offered to build a footpath as well.
The location of this significant Aboriginal site next to a busy road and shopping centre shows the interwoven nature of history and place that continues to make Yagan's story well-known today.
The Museum films Ken's story
In December 2007 Ken talked about his role in Yagan's repatriation and the Museum recorded it on film, with assistance from the local Kulbardi film crew. Filming started at Matagarup (Heirisson Island), at the southern entrance to Perth city, where Ken spoke about the importance of this place to Noongar people.
The next location was at Perth airport where, amongst the busy air traffic, Ken spoke of his emotions when he and other Noongar elders flew home to Perth in 1997 with Yagan's remains safely on board. The final location for filming was at Bennee Yowlee's gravesite.

Working with Kulbardi Aboriginal Centre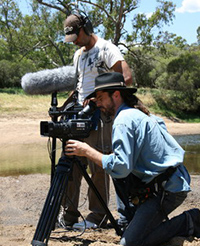 The Museum worked with the Kulbardi Aboriginal Centre (formerly the Aboriginal Education Unit) to film the interview with Ken Colbung.
Kulbardi Productions is a media production house that documents and archives Noongar culture, language and histories using modern media.
It assists Indigenous students wishing to access tertiary studies and aims to foster student interaction, group solidarity and cultural support.
Officially opened on 29 November 1996, the Centre is a tribute to the late Munyari (Elder Ralph Winmar) who gave his respected counsel in choosing the Centre's name, kulbardi, which means magpie.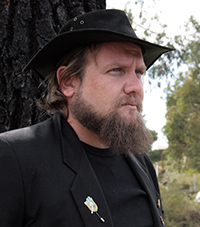 'I had the pleasure of working with the National Museum of Australia on this important Indigenous project. It was an enjoyable shoot and not only did an important part of Noongar history get documented and archived, but I also learnt and strengthened my knowledge of my ancestor's culture and way of life.'
Glen Stasiuk, Kulbardi Director, 2008
Other stories of resistance