WARNING: Visitors should be aware that this website includes images and names of deceased people that may cause sadness or distress to Aboriginal and Torres Strait Islander peoples.
---
Finding Yagan
Ken Colbung talks about the Yagan story
I was very much fascinated by the fact that Yagan was our hero and a great warrior. (Ken Colbung, 2007)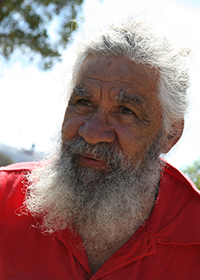 Ken Colbung MBE, JP, AM, is an Aboriginal elder from the Noongar community in Perth, West Australia. He played a significant role in the campaign to return Yagan's remains to Australia.
Ken was born in 1931 at the Moore River settlement, 135km north of Perth in Western Australia. After the death of his mother, he was taken to Sister Kate's Home – a Perth Anglican orphanage – at the age of six. Ken joined the Australian army in 1950, and served in Japan and Korea. This experience had some advantages for Ken as the army treated Aboriginal people on their merits, in Ken's words 'I was a number not an Aborigine'.
After retiring from the army in 1965, Ken became involved in community work, in Sydney and also in Perth. Ken founded Noongar Community Inc in 1977, which established an Aboriginal Community College at the Gnangara complex in Perth's northern suburbs.
The Museum worked closely with Ken on this story and we are grateful to him for the time and knowledge he gave.
Ken Colbung speaks from the heart: ABC Radio National Awaye! program
At age 75, Noongar elder Ken Colbung looks back on a life full of gut-wrenching challenges, human rights campaigns, spiritualism and adventure.

Listen to Ken Colbung interview, 27 August 2007 (MP3 audio)
(Duration: 23:34, file size 11mb)
---
Other stories of resistance