WARNING: Visitors should be aware that this website includes images and names of deceased people that may cause sadness or distress to Aboriginal and Torres Strait Islander peoples.
---
Yagan's story
Betrayal: Yagan's story
Yagan (c.1795-1833) was in his early 30s when the area on the western coast of Australia that became Perth was settled by British colonists in 1829. He befriended many of the early settlers and was well-known in the Perth district. The Perth Gazette published stories about him and George Fletcher Moore, a prominent early settler who described encounters with Yagan in his diaries.
After a number of clashes with settlers, over food and other resources, Yagan was declared an outlaw and forced to go into hiding. Tragically, on 11 July 1833, Yagan's friend William Keates shot and killed Yagan for a £30 reward - possibly because William needed money for his passage back to England.
After his death Yagan's body was decapitated, preserved and taken to England as a scientific curio.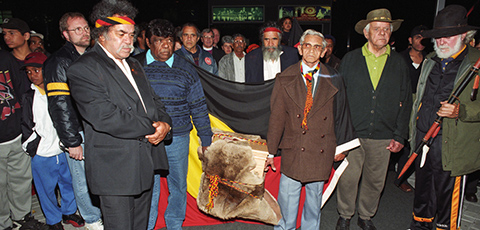 Bringing Yagan home
Yagan is well-known to both Indigenous and non-Indigenous people and remains a symbolic figure in contemporary Noongar history. On the instruction of his elders, Ken Colbung began looking for Yagan in the 1950s. More than 160 years after his death, Yagan's remains were located in an unmarked grave in Liverpool. In 1997 Noongar elders brought Yagan's remains home, wrapped in a kangaroo skin cloak.
Other stories of resistance