WARNING: Visitors should be aware that this website includes images and names of deceased people that may cause sadness or distress to Aboriginal and Torres Strait Islander peoples.
---
Fanny Balbuk's legacy
Sharyn Egan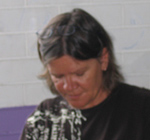 Sharyn Egan is a Noongar artist and descendant of Joobaitch, Fanny Balbuk's uncle. Sharyn admires Fanny's 'courage and the way she was not afraid to just be herself and damn the consequences'.
Sharyn's works are held in a number of collections in Western Australia, including the Berndt Museum of Anthropology. Sharyn has completed public art works for the City of Fremantle, the City of Subiaco, the City of Cockburn, the City of Melville and the Perth International Arts Festival.
Walyalup Women Weavers
Sharyn's work deals with Noongar Aboriginal peoples' sense of loss and displacement and the trauma that is carried on down through the generations. Over the past five years she has also worked extensively in community projects and cultural development projects, specifically with Indigenous youth in using arts and cultural processes. Sharyn and a number of other Noongar women run the Walyalup Women Weavers group. Walyalup is the Noongar name for the Fremantle area.
Other stories of resistance