WARNING: Visitors should be aware that this website includes images and names of deceased people that may cause sadness or distress to Aboriginal and Torres Strait Islander peoples.
---
Fanny Balbuk
Speaking out, walking on: Fanny Balbuk
Fanny Balbuk (1840-1907) was a prominent Noongar woman, born during the early years of British settlement on Matagarup (Heirisson Island) along the Derbal Yaragan (Swan River) in Perth, Western Australia.
Balbuk provided information about Noongar culture and history to anthropologist Daisy Bates.
Balbuk's parents: Coondebung and Doodyeep
Fanny's father was Coondebung, and her mother was Joojeebal/Doodyeep. They were well-known in the white community. For example, on an excursion north of Perth, the farmer George Fletcher Moore came across Balbuk's parents and travelled with them for a few days. Moore published an account of this in the Perth Gazette on 14 May 1836. Doodyeep's cheeky sense of humour and Coondebung's skill at travelling and hunting on his own country are vividly described in Moore's account.
Sadly Coondebung died in November 1840 after being imprisoned on Rottnest Island for taking flour. It is unclear what happened to Doodyeep.
Protesting against occupation
Balbuk is renowned for protesting about the occupation of her traditional land around Perth. Daisy Bates recalled that:
one of her favourite annoyances was to stand at the gates of Government House, reviling all who dwelt within, in that the stone gates guarded by a sentry enclosed her grandmother's burial ground. (Daisy Bates, 1938) [1]
Balbuk and Noongar land rights
On 19 September 2006 Justice Wilcox of the Federal Court of Australia found that Noongar people held native title rights over parts of the Perth metropolitan area and its surrounds. [2] This was the first occasion when native title had been found to continue to exist in an Australian capital city. The information which Fanny Balbuk gave to Daisy Bates played an important role in the native title claim.
There were strong reactions to the court's decision. Some non-Indigenous Perth residents expressed fears that they would lose their houses and property. Glenn Kelly, Chief Executive of the Southwest Land Council, tried to reassure them saying: [3]
There is nothing to fear — this decision enables Noongar people and the state government to begin talking to each other in a more constructive manner.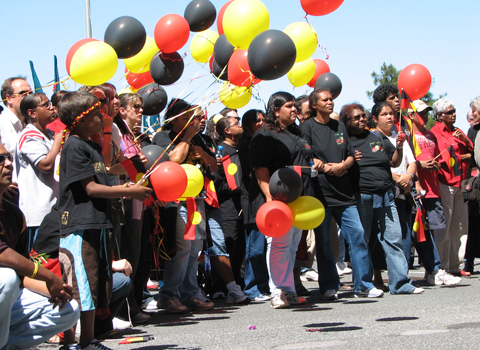 Decision overturned
In April 2008, the Full Federal Court upheld an appeal of the 2006 decision by the state and federal governments. [4] The matter has been referred back to the Federal Court's native title provisional docket judge to be heard again.
---
[1] Daisy Bates. Daisy Bates, My Natives and I: Incorporating The Passing of the Aborigines: A Lifetime Spent Among the Natives of Australia, PJ Bridge (ed), with an introduction by Bob Reece, Hesperian Press, Carlisle, WA, 2004, p 65. My Natives and I was first published as a series of articles in January 1936 in the Adelaide Advertiser with syndication Australia wide. The Passing of the Aborigines is an edited version of these articles, published by John Murray in London in 1938.
[2] Bennell v State of Western Australia [2006] FCA 1243 (19 September 2006). The statement of Justice Wilcox is available on the Australasian Legal Information Institute (AustLii) website at: http://www.austlii.edu.au/au/cases/cth/federal_ct/2006/1243.html
[3] 'Perth Nyoongar native title claim upheld by Federal court - State to appeal', PERTH INDYMEDIA - Tuesday, 19 September 2006.
[4] State of Western Australia, Commonwealth of Australia, Western Australian Fishing Industry Council and Christopher Bodney v Anthony Bennell and Others [2008] FCAFC 63 (23 April 2008). The court's summary and decision are available on the Australasian Legal Information Institute (AustLii) website at: http://www.austlii.edu.au/cgi-bin/sinodisp/au/cases/cth/FCAFC/2008/63.html
Other stories of resistance