WARNING: Visitors should be aware that this website includes images and names of deceased people that may cause sadness or distress to Aboriginal and Torres Strait Islander peoples.
---
Landscape
Yurrkuru, the place where Fred Brooks was murdered (also known as 'Brooks Soak'). The term 'soak' refers to a place where water can be found beneath the ground after surface water has dried up.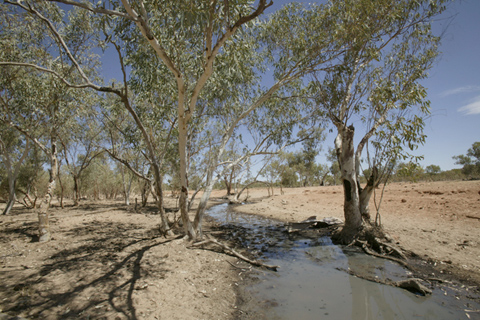 Grave of Fred Brooks at Yurrkuru. The murder of Brooks triggered the Coniston Massacre. After the murder, the body was hastily buried with one boot sticking out of the ground. [1] It was then reburied and the headstone erected at the original burial site.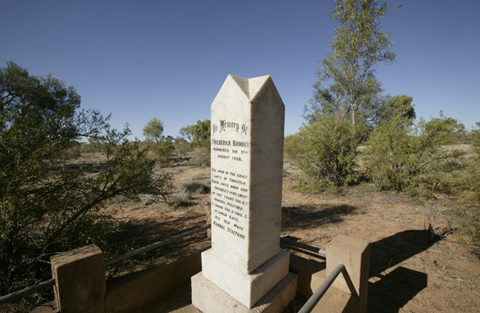 The epitaph on the grave of Fred Brooks was composed by Randal Stafford of Coniston Station. Reads:
In Memory Of
Frederick Brooks
Murdered On 7th
August 1928.

Old Man In The Early
Days Of Coniston.
Those Days When Our
Troubles Were Great
In The Years You & I
Worked Together.
I Found You A True & Staunch Mate.
His Old Mate Randal Stafford.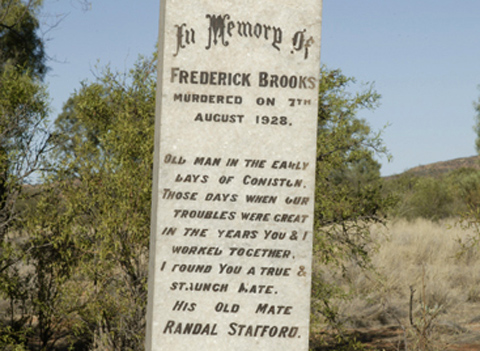 ---
[1] Kimber, Dick, 2003-2004. '"Real true history": Coniston Massacre', serialised in 18 copies of the Alice Springs News, Vol 10, Issue 32, September 10, 2003 to Vol 11, Issue 3, February 4 2004, http://www.alicespringsnews.com.au/1032.html (part 1)
For remaining parts 2 to 18, see issues 1033-1103 under archived stories at: http://www.alicespringsnews.com.au/archive.html
Other stories of resistance