WARNING: Visitors should be aware that this website includes images and names of deceased people that may cause sadness or distress to Aboriginal and Torres Strait Islander peoples.
---
Film about Yurrkuru
Yurrkuru-kurlu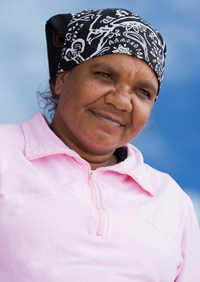 In this documentary Yurrkuru-kurlu, Theresa Napurrula Ross, speaks about the Coniston Massacre and the events which led it to it. Theresa is speaking in her first language Warlpiri. The film has been subtitled with English translations by Theresa.
Theresa first learnt of the Coniston Massacre as a child. Her stepfather, Jack Ross (Jakamarra), was a traditional owner of the area where the Coniston Massacre took place. As a 12 year old, Jakamarra was an eyewitness to the shootings.
In 1998 she received an Australian Institute for Aboriginal and Torres Strait Islander Studies grant to interview the last survivors of the Coniston Massacre. She has held a traineeship in Aboriginal language work at the Institute for Aboriginal Development in Alice Springs and has experience as an Aboriginal literacy worker.
In 2003 Theresa took part in the 75th anniversary commemoration of the Coniston Massacre which brought together survivors and their families, representatives of the Northern Territory police and descendants of Constable George Murray.
Watch video of Theresa Napurrula Ross talking about the Coniston Massacre (MPG4 video)
(Duration: 5:10, file size 11.8mb)
Other stories of resistance