WARNING: Visitors should be aware that this website includes images and names of deceased people that may cause sadness or distress to Aboriginal and Torres Strait Islander peoples.
---
Coniston anniversary
Coniston 75th anniversary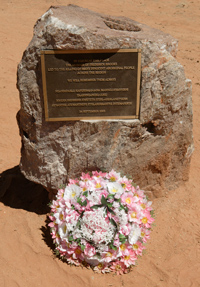 In August 2003, the Warlpiri communities of Willowra, Yuendumu and Alice Springs came together for a commemoration of the Coniston Massacre in 1928.
The commemoration was also attended by representatives of the Northern Territory Police and descendants of the family of Mounted Constable George Murray.
The Commemoration of the 75th Anniversary of the Coniston Massacre held at Yurrkuru on Coniston Station in September 2003 was a significant event in the history of the nation.
This occasion represented the first and possibly the last gathering of people alive at the time of massacre to commemorate the events. It also provided an opportunity for Aboriginal communities to reflect on the meaning of the event and to mourn the loss of family.
Traditional ceremonies were staged along with a Christian service, a concert and the placement of a brass plaque on a stone memorial near Brooks Soak.
Coniston Commemoration Collection
Representatives of the National Museum attended the commemoration. The theme of the event, as publicised by the Central Land Council which organised the proceedings, was 'Making Peace With the Past'. For many Aboriginal people today, the events of 1928 are as much about the present as about the past. About forging new relationships and seeing old ones in a new light.
The participation of the Museum at the 2003 event is significant in this context. Following the commemoration, the Museum organised to acquire a collection of objects prepared and used during the event. These objects have become part of the National Historical Collection.
The Coniston Commemoration Collection includes objects made by senior Warlpiri women (Jennifer Fishhook Nungarrayi, Lucky Nampitjimpa, Lilian Nakamara, Ruby Price Nampitjimpa, Peggy Martin and Lucy Martin) for the purpose of their performance in the ceremony.
A large commemorative banner hung as a backdrop to the proceedings was also acquired for the National Historical Collection.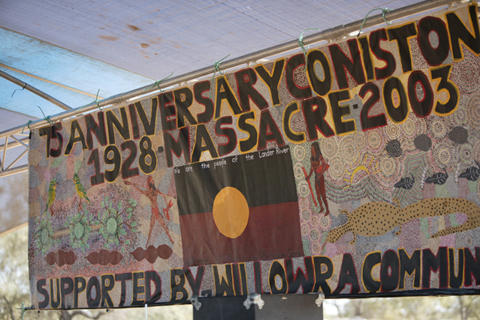 Other stories of resistance