WARNING: Visitors should be aware that this website includes images and names of deceased people that may cause sadness or distress to Aboriginal and Torres Strait Islander peoples.
---
Coniston Massacre
Murder and reprisal
On 7 August 1928 a white dingo trapper, Fred Brooks, was found murdered on Coniston station in central Australia. Brooks had been killed with traditional weapons and the body hastily buried. [1] Two Aboriginal men – Padygar and Arkikra – were arrested for the murder of Brooks. They stood trial in Darwin in the Northern Territory and were acquitted.
Brooks's killer, as later became widely known from accounts by Aboriginal eye-witnesses, was another man, Kamalyarrpa Japanangka ('Bullfrog'). Brooks had been living on Coniston station at a waterhole called Yurrkuru, 20km west of the homestead. A group of Warlpiri people, including Kamalyarrpa, were camped nearby. Early one morning Brooks, then in his sixties, was attacked in his camp. The murder had been planned by Bullfrog with others agreeing to assist.
Soon after the discovery of Brooks's body, a series of reprisals were undertaken by groups of men on horseback led by Mounted Constable George Murray. The parties were made up of civilians and police, and included Aboriginal as well as non-Aboriginal men. Jack Saxby was one of the civilians who joined the reprisal party led by Murray.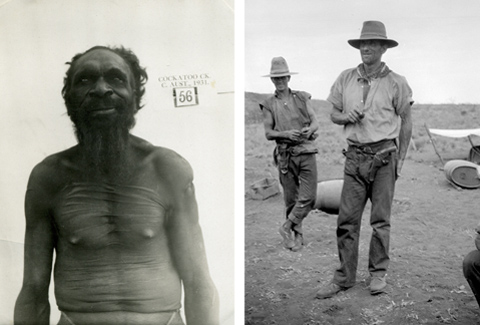 Over a period of months and at a number of sites, more than 60 Aboriginal men, women and children were shot and killed. Collectively these incidents became known as the Coniston Massacre.
No charges were laid against the reprisal party. A Board of Enquiry set up to investigate the killings ruled the party had 'acted in self-defence'. [2] In evidence to the Board of Enquiry, Jack Saxby stated 'I always carry a revolver on my tours and consider it necessary. I have had occasion to shoot at blacks before this trouble. I have had to shoot to kill.'
Why did it happen?
Much of the relationship between black and white revolved around the environment's ability to sustain different populations. This was not the first attack on a white man in central Australia. Attacks by Aboriginal people on settlers had taken place since the arrival of cattle in the region during the 1870s. The harsh environment led to tensions between settlers and Aboriginal people competing for the same resources. By 1928, central Australia was a tinderbox ready to ignite.
Aboriginal accounts of the murder suggest Brooks was killed because he breached Aboriginal marriage law. It was common among British settlers to take an Aboriginal wife. British men also sought assistance from Aboriginal women for domestic tasks.
Fred Brooks did not have an Aboriginal wife and was not known to have relationships with Aboriginal women, though he may have placed demands on Kamalyarrpa's wives for assistance with general camp chores like firewood collecting and clothes washing.
It is unclear exactly how the dispute between Brooks and Kamalyarrpa arose, but the treatment of Aboriginal women was a practice fraught with complications. Rights in marriage were governed by Aboriginal law and transgressions of marriage law were punishable offences.
The violence which erupted in central Australia in 1928 illustrates the kind of cultural misunderstandings that characterised early colonial contact. We also see the breakdown of law in an occupation context. British acted outside the law in enacting vengeance rather than bringing the true culprit, Kamalyarrpa Japanangka, to trial.
On the other hand, the killing of Brooks can be seen as an act of resistance to the imposition of a foreign legal framework. In an Aboriginal legal sense, Kamalyarrpa acted lawfully in exercising his traditional rights in marriage and land. But the consequences for Aboriginal people were disastrous. Many lives were lost and the painful memories of those who were brutally killed in 1928 still linger for Aboriginal people today.
---
[1] Kimber, Dick, 2003-2004. '"Real true history": Coniston Massacre', serialised in 18 copies of the Alice Springs News, Vol 10, Issue 32, September 10, 2003 to
Vol 11, Issue 3, February 4 2004, http://www.alicespringsnews.com.au/1032.html (part 1)
For remaining parts 2 to 18, see issues 1033-1103 under archived stories at: http://www.alicespringsnews.com.au/archive.html

[2] National Archives - Transcript of the findings of the 'Board of Enquiry concerning the killing of natives in Central Australia by Police Parties and others, and concerning other matters.' Commonwealth of Australia, 18 January 1929.
http://www.aa.gov.au/cgi-bin/Search?O=I&Number=66518
Other stories of resistance