WARNING: Visitors should be aware that this website includes images and names of deceased people that may cause sadness or distress to Aboriginal and Torres Strait Islander peoples.
---
Yugambeh Museum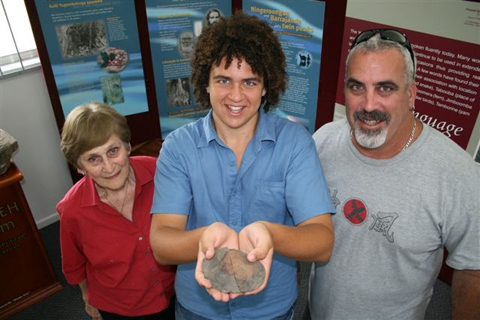 The Yugambeh Museum was looking for stories of different ways in which Indigenous communities had experienced and dealt with the catastrophic event of the occupation of their countries by the British.
Look into the eyes of Bilin Bilin, yes, they tell a story of the burden he was forced to bear when these intruders failed to respect his family and his land. The metal plate and chains are symbols of this burden. (Ysola Best, 1993)
It was this quotation from Ysola Best, Bilin Bilin's great-great granddaughter, that inspired National Museum curator Jay Arthur to find out more about the story of Bilin Bilin.
Her investigations led to the Yugambeh Museum Language and Heritage Research Centre at Beenleigh in south-east Queensland. The Yugambeh Museum was founded by Ysola Best and many other members of the Yugambeh community to research the history of their ancestors and protect the cultural heritage of their traditional lands. The work has been undertaken in a spirit of reconciliation through education programs, exhibitions and ceremonies and is supported by the many descendants of the Yugambeh. The museum is recognised as the major source of information for researchers of Yugambeh cultural heritage including landscape, place and objects.
The community at the Yugambeh Museum was very happy for the story of their ancestor to be told in the National Museum of Australia and worked closely in partnership with the Museum to tell the story of Bilin Bilin. They shared stories to be told in the exhibit and loaned artefacts for the display. The axe had been found by Hague Best, another descendant of Bilin Bilin, in the heart of Bilin Bilin's country, between the Albert and Logan Rivers.
Very sadly Jay did not get to meet Ysola. Ysola passed away in 2007 but before she did she knew that the story of her ancestor Bilin Bilin would be told in Australia's National Museum.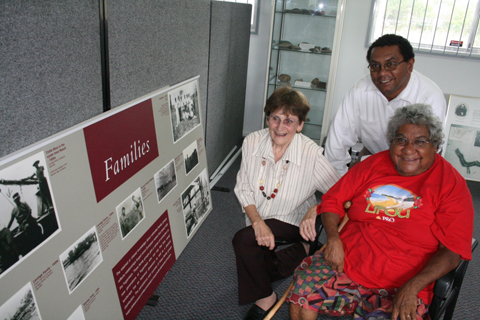 Through the Yugambeh Museum Jay met other members of the community including 15-year-old Axel Best, Bilin Bilin's great-great-great-great-grandson. Jay was looking for someone from the community to tell the story of Bilin Bilin and what he meant to the community today. She was hoping to find a young narrator who would help younger visitors to the Museum relate to a story that otherwise might seem rather remote to them. Axel fitted the bill – he was not only the right age but he is genuinely interested and involved in the stories of his heritage. Family legend has it that 'archaeologist' was his first word!
Yugambeh Museum also organised the collection of images of Bilin Bilin descendants shown on this website. If you think you are a descendant, please contact the Yugambeh Museum so your image can be added to the collection.
If you are interested in finding out more about the Yugambeh Museum, visit www.yugambeh.com
Other stories of resistance