WARNING: Visitors should be aware that this website includes images and names of deceased people that may cause sadness or distress to Aboriginal and Torres Strait Islander peoples.
---
Bilin Bilin objects
Image Gallery Page Navigation
Page 1 of 1
Axe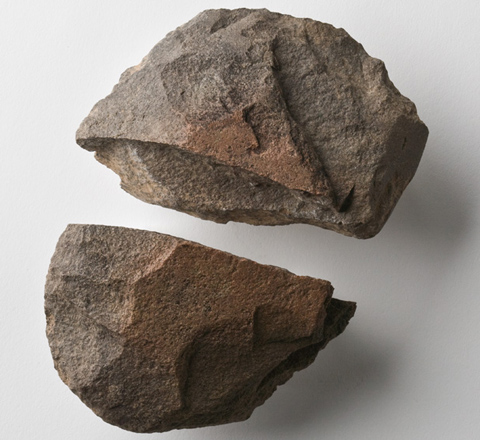 Axe made of basalt. Photo: George Serras.
This axe was found in the heart of Bilin Bilin's country, between the Albert and Logan Rivers. You can see the location in Landscape.
It was found by Bilin Bilin's great-great-great grandson, Hague Best. Hague is an Indigenous Cultural Heritage Officer with the Gold Coast City Council. After a day spent on an archaeological dig, he was examining the finds, including a couple of broken axe pieces he had found 20 metres apart. When he held the axe fragments together he suddenly realised they were the two halves of the same axe. It is now part of the collection of the Yugambeh Museum.
The axe is made of from a flake of basalt rock, ground on sandstone to sharpen it. Sometimes axes are attached to handles but the lack of marks on the axe shows it never had a handle. It would have been used for a range of purposes – to chop wood, strip bark, butcher large animals, as a weapon or a ceremonial item.
The edges of the axe are quite worn so it has been well-used. Axes were a valuable possession and a trade item. There is also wear on the broken edge that shows the break happened a long time ago.
Axes like this were once common but are now rare, because they have been widely collected by people interested in local history who then take the finds from the place in which they were found. Such collecting is not only illegal but deprives the local community of the knowledge of their past that artefacts like this axe can give.
Sugar sack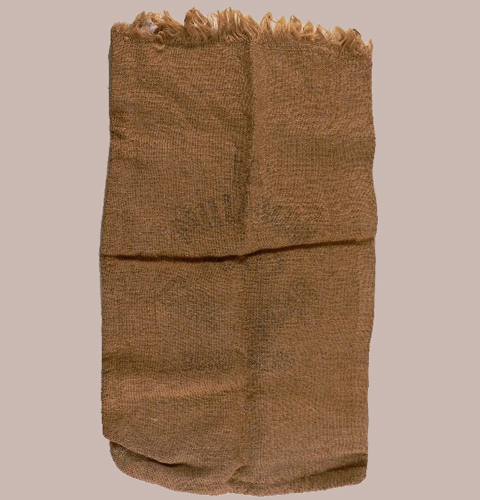 Sugar sack. Photo: George Serras.
A number of stories about Bilin Bilin have been passed down through his family. One of these stories relates how, in his travels around his country, Bilin used to pass the house of a white widow who had been left alone to raise a large family. He was sorry for her, left alone as she was, and when he passed by he would bring bush honey and other food for her. Most likely he would have carried the items in a sugar bag like this one.
The materials that people use have changed over time. When Bilin Bilin was a young man, people would have used containers made of bush material like bark or hollowed-out wood or handwoven plant fibres to carry things in. But later people began to use factory-produced non-Indigenous items such as hessian bags or metal tins. They also began to use metal axes and knives, instead of stone tools. Colonisation brought many changes to Bilin's community – including changes in the technology of ordinary life.
Tower Patt carbine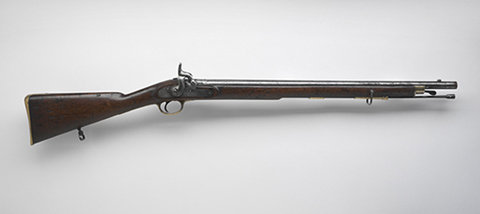 Tower Patt carbine shotgun. Photo: George Serras.
Tower Patt carbine shotguns were commonly used in the Queensland Native Police during the mid-19th century.
Bilin Bilin's community knew the Native Police. A weapon like the Tower Patt would have been used in the attacks on Yugambeh people by the police.
The Native Police were founded in 1859 and disbanded in 1901. Although called 'police', they essentially functioned as a military occupation force, to suppress any sign of resistance. [1] In the Native Police, the officers were always 'white' and the men, known as 'troopers', were Aboriginal. The use of a locally recruited force to suppress resistance was a common practice among imperial governments. Local people understood the 'enemy' and were cheaper - they were often satisfied with less pay and poorer conditions than non-Indigenous soldiers.
The Native Police had a reputation for 'extreme violence'. [2] Armed men who were poorly trained, young and in fear of their officers, they were sent to attack groups of other Aboriginal people, with whom they usually had no allegiance or with whom they may have been traditionally at war. The relations between officers and men were also violent. What these troopers felt about their position is not known as their opinions were not recorded. However, desertion by troopers, sometimes a whole group, was common, and the force was chronically under-resourced. Some troopers were apparently recruited against their will at gunpoint or taken as boys.
The Queenslander commented in February 1875 on miners travelling to the northern frontier: 'A breech-loading rifle should form an item in every northern bound digger's outfit' because of the danger of attack. [3] But weapons such as this and the even more effective repeating rifles which followed them, coupled with the advantages of being on horseback, made violent resistance very costly.
---
[1] 2008 Radio National Bookshow story
(first consulted 24 march 08)

[2] See Richards, Jonathon The Secret War: A true history of Queensland's Native Police UQP 2008

[3] Richards, p61