WARNING: Visitors should be aware that this website includes images and names of deceased people that may cause sadness or distress to Aboriginal and Torres Strait Islander peoples.
---
Bilin Bilin
Matters of life and death: Bilin Bilin's story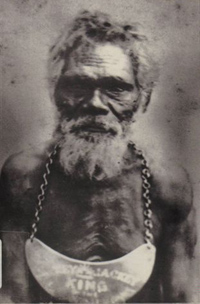 Bilin Bilin's story is of a man and a community leader who had to confront a problem that no-one would choose to face – the occupation of his country. It is also the story of how some of his descendants today have found inspiration from his life and the way he dealt with the issues he had to confront.
Bilin Bilin, a Yugambeh man, was born about 1820 in south-east Queensland. By the time he died in 1901, the world of the Yugambeh had undergone a radical transformation through the occupation of their country by the British.
They began moving into his country in the early 1800s. Surveyors, timber-getters and missionaries were some of the first arrivals. It was from a Pastor Haussmann at Bethesda Mission that Bilin Bilin learnt to read and write English.
At first there was space for the Yugambeh and the British to live side by side. But by the mid-nineteenth century, pastoralists were taking up more land, and the non-Indigenous population was increasing. 1859 saw the formation of the Queensland Native Police and British weapons were becoming more effective against spears and clubs. In 1861 a group of Yugambeh people were shot dead by a Native Police detachment in reprisal for the alleged theft of some blankets and tobacco.
Another kind of heroism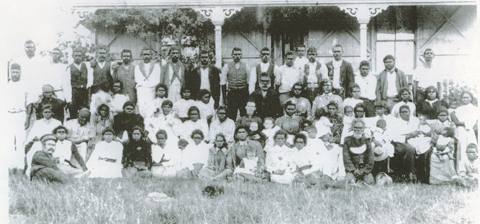 Some people resisted the occupiers with guerilla tactics but Bilin Bilin took another tack. He continued to work for white settlers – one way of avoiding being killed or displaced because of the high value of Aboriginal labour. Bilin Bilin also distributed bibles among his community, although he did not become a Christian himself. He continued to carry out traditional ceremonies but he also gained the respect of the occupiers and was given a breastplate inscribed 'Jackey Jackey King of the Logan and Pimpama'. Bilin Bilin remained in his country until he was very old, a significant achievement. In his last years he gave in to pressure and went to live at nearby Deebing Creek Mission.
Those who chose the path of guerrila warfare often left no descendants. Bilin Bilin chose another kind of heroism. The occupiers were not leaving – and for Bilin Bilin the challenge was how to keep identity and community alive in this new and hostile environment. His descendants believe that the hard decisions he made more than 100 years ago have allowed them to survive and to retain culture and identity. Many of Bilin Bilin's descendants live in their traditional country today.
Other stories of resistance