WARNING: Visitors should be aware that this website includes images and names of deceased people that may cause sadness or distress to Aboriginal and Torres Strait Islander peoples.
---
Open collections
Behind the scenes of Indigenous collections
Open for self-guided tours 15 minutes on the hour, 10am to 4pm daily, Gallery of First Australians, free.
Open Collections is a part of the Gallery of First Australians that gives visitors a special 'behind the scenes' glimpse of more than 2000 objects from the National Museum of Australia's Indigenous collections.
These collections have come from four sources:
objects acquired by the Commonwealth Government from the 1920s up to the establishment of the National Museum of Australia in 1980
objects from the University of Sydney, which were transferred to the Commonwealth on 'permanent loan' in 1957 and then permanently transferred to the National Museum of Australia in 1989
objects previously held by the Australian Institute of Aboriginal Studies (now AIATSIS)
collections acquired by the National Museum of Australia since 1980.
Physical layout
The layout of the Open Collections display is simple: objects are displayed in a way similar to the way they are kept in the Museum store. This gives visitors a 'behind the scenes' experience of the Museum.
The area is divided into two key parts – cases on the outer walls which house artefacts grouped by object type, and a large central case which houses artefacts grouped according to region. In the central case are 20 bays with objects from ten cultural regions.
These are: Torres Strait; West and East Cape; Arnhem Land; North and Fitzmaurice; Eyre and Spencer; Northeast, Rainforest and Gulf; Riverine, Southeast and Tasmania; Desert; Kimberley; and Northwest and Southwest regions.
A place specifically for Indigenous visitors
The Open Collections display was set up to give Aboriginal and Torres Strait Islander people easy access to a range of the Museum's Indigenous objects from different parts of Australia.
Many people from Indigenous communities visit this space, sometimes by appointment, sometimes as part of an unarranged visit. They often find material from their 'country'.
Open Collections' inspection room allows people to look at objects up close. The sheer number of objects in the space, with their ongoing connections to individuals and communities, perhaps goes some way to explaining what visitors have described as the power of the space.
A must-see destination
Open Collections is also an important destination for non-Indigenous Museum visitors. Here they can experience the diversity of Aboriginal and Torres Strait Islander cultures – illustrated through the variety of artefacts and style.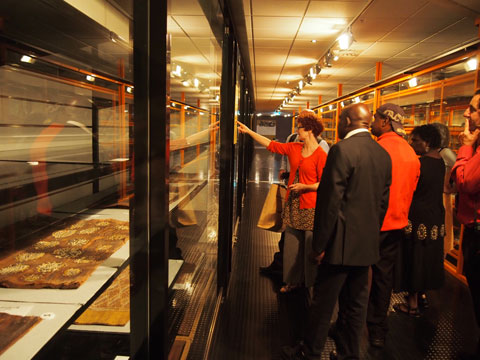 The Open Collections display plays an important role in helping local, interstate and overseas visitors learn about Australia's Indigenous cultures. It is also a popular point of call for the Museum's VIP visitors.
Open Collections highlights: the Basedow collection
The Open Collections display includes many objects with important histories. Some of these come from the Herbert Basedow collection.
Dr Herbert Basedow (1881-1933) was a professionally trained anthropologist, geologist and medical doctor who took photographs and collected Indigenous artefacts on several expeditions into central and northern Australia between 1903 and 1928.
His collection of images and objects was acquired by the Commonwealth in 1934, and is one of National Museum of Australia's major collections.
Toy shield
An interesting object in the Museum's collection is a toy shield.
The collection also includes an image taken by Basedow of a young Aranda boy playing with the shield before Basedow collected it.
Basedow gives a detailed description of how this object was made in his book The Australian Aboriginal (1925, pp 86-87).
Related links
A Different Time: The Expedition Photographs of Herbert Basedow 1903-1928

Audio on demand: Collecting for a nation
Professionals and amateurs: different histories of collecting in the National Ethnographic collection. Talk by senior curator David Kaus, 21 March 2006.
Further reading

Collectors and Collections: Herbert Basedow, a man of many professions (PDF 106kb)
Friends magazine, Vol 14, No 1, March 2003