WARNING: Visitors should be aware that this website includes images and names of deceased people that may cause sadness or distress to Aboriginal and Torres Strait Islander peoples.
---
The First Australians gallery presents stories, objects and images that explore the culture and experiences of Australia's first peoples from time immemorial, through colonisation to contemporary Australian life. Here are some of the displays that were previously on show in the gallery.
Find out more about the current displays in the First Australian gallery
Image Gallery Page Navigation
Page 1 of 1
Dhari a Krar
Lower gallery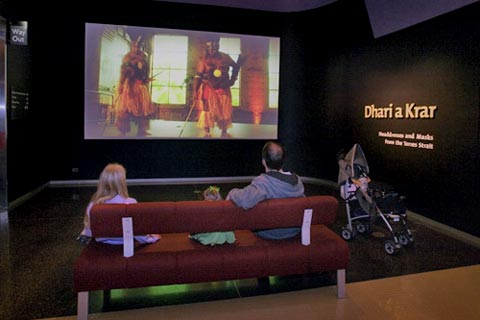 Jackie Huggins
Lower gallery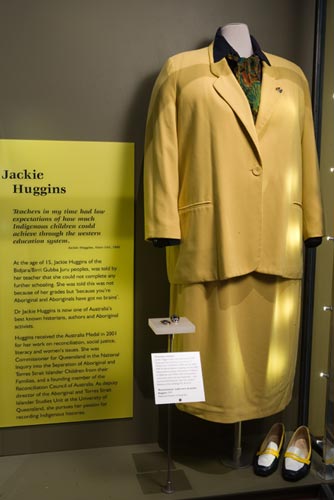 Photo: George Serras.
Dr Huggins, of the Bidjara / Birri-Gubba Juru peoples, is a historian, author and Aboriginal activist. She received the Australia Medal (AM) in 2001, for her work with reconciliation, social justice, literacy and women's issues. She was Commissioner for Queensland in the 'National Inquiry into the Separation of Aboriginal and Torres Strait Islander Children from their Families' and a founding member of the Reconciliation Council of Australia. As the current Deputy Director of the Aboriginal and Torres Strait Islander Studies Unit at the University of Queensland, she is continuing to pursue her passion for recording histories.
This display features an outfit worn by Jackie Huggins at three national events - Conference Reconciliation Convention, Melbourne (1997), Corroboree 2000 and Walk for Reconciliation, Sydney (2000) and Reconciliation Workshop, Canberra (2005).
Tooloyn Koortakay: Squaring skins for rugs
Upper gallery

Photo: Dragi Markovic.
Tooloyn Koortakay follows the spiritual journey of four south-east Australian Aboriginal women who have revived the lost art of making possum skin cloaks. The women researched the intricate designs on surviving cloaks, which they reproduced on the 50 skins required for each new cloak.
The Tooloyn Koortakay collection of the National Museum of Australia comprises pastel drawings, lino cuts, possum skin dance ornaments, a selection of tools, two magnificent cloaks, a reproduction of the Maiden's Punt Yorta Yorta possum skin cloak collected in 1853 and a reproduction of the Lake Condah Gunditjmara possum skin cloak collected in 1872.
Although the pieces in the collection were recently created, this collection is deeply historical – it reaches back to the centuries-old traditions and customs of the communities of south-eastern Australia.
Read more about the Tooloyn Koortakay collection