Gallery highlights
The Journeys gallery explores the journeys of people to and from Australia and the social, political and economic impacts of those journeys. Here are some of the highlights from the 750 objects on show in the gallery. These objects are from the National Museum's collections, unless otherwise stated.
All photos by George Serras, Lannon Harley, Dragi Markovic and Dean McNicoll, unless otherwise stated.
Image Gallery Page Navigation
Page 6 of 6
Irish dancing costume made by Rachel Franzen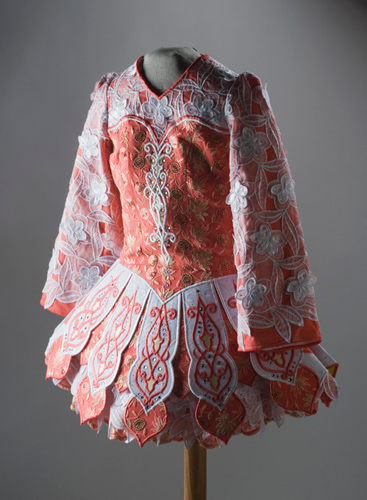 An Australian teaches Irish dancing in Dubai
Australian Rachel Franzen took up Irish dancing as a young girl living in Canberra. Irish culture isn't in her blood — she started dancing simply because classes were offered as an after-school activity conveniently close to her home.
After a year, Franzen was hooked. She went on to enjoy success in 10 consecutive Australian National Irish Dancing Championships.
Today, Franzen lives in Dubai in the United Arab Emirates where she works as an Irish dancing teacher and choreographer. She also runs a business designing and making Irish dancing costumes for students in Dubai and, via the internet, around the world.
Her designs blend traditional styles of Irish dancing dresses with modern fabrics and motifs drawn from Islamic architecture and decoration.
The design on this Franzen dress blends traditional Irish decorations with motifs derived from Arabic architecture. The pattern in the centre of the bodice, for example, is a traditional Celtic form signifying the continuity of life; while the decorations on the skirt petals were inspired by a tile from the Lutf Allah Mosque in Isfahan in Iran.