Gallery highlights
The Journeys gallery explores the journeys of people to and from Australia and the social, political and economic impacts of those journeys. Here are some of the highlights from the 750 objects on show in the gallery. These objects are from the National Museum's collections, unless otherwise stated.
All photos by George Serras, Lannon Harley, Dragi Markovic and Dean McNicoll, unless otherwise stated.
Image Gallery Page Navigation
Page 5 of 5
Minh Tam Nguyen's 'dan tre' (bamboo musical instrument)

A Vietnamese refugee's musical connection
From 1975 Minh Tam Nguyen spent six years as a prisoner of war in the 're-education' camps of the People's Liberation Armed Forces, or Vietcong, in central Vietnam.
During breaks from hard labour, Minh invented and played a musical instrument that combined features from Vietnamese bamboo zithers and Western instruments like the guitar. He called it the dàn tre, which means 'bamboo musical instrument'.
Minh made this 23-stringed dàn tre in a Philippine refugee camp after fleeing Vietnam in 1981. He brought the instrument with him when he and his son came to Australia in 1982. Playing the dàn tre connected him to the family he had been forced to leave behind in Vietnam.
Read more about Minh Tam Nguyen's dàn tre

Listen to 'The dàn tre: a musical migration story' audio
Curator Jennifer Wilson detailed her research on the dàn tre in a presentation at the National Museum on 8 August 2007.
'Tales of the Souk' by Fatima Killeen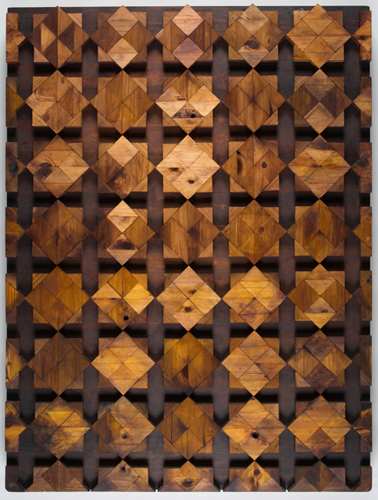 An artist's connections to Morocco
Fatima Killeen grew up in Casablanca, in Morocco. Her passion for visual arts led her overseas to study painting and photography at the prestigious Corcoran School of Art in Washington DC, in the United States. There Fatima met her Australian husband-to-be, John, and in 1994 they moved to Canberra in the Australian Capital Territory.
Killeen created Tales of the Souk, during her final year at the Canberra School of Art in 1997. She soaked the wooden pieces that make up its patterned surface with fragrant saffron, henna and black nut powder to evoke the sights and smells of the Casablanca souks, or markets.
The eight-pointed stars in the work are known in Arabic as 'khatim'. These symbols are used widely in Islamic art and patterns made up of this shape decorate mosques and homes across Morocco.