Australian History
Many Australian words and idioms derive from events, people, and places that have been significant in Australia's history.
Image Gallery Page Navigation
Page 2 of 2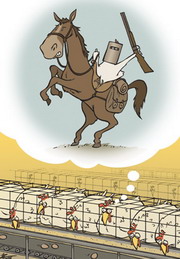 Cartoon: David Pope
Such is life
The last words spoken by the bushranger Ned Kelly before he was hanged at Melbourne Gaol in 1880. The phrase is used to express a philosophical acceptance of the bad things that happen in life.
It was further popularised by its use as the title for Joseph Furphy's famous novel about rural Australia (1903).
Some claim that Kelly's last words were in fact 'Ah well, I suppose it has come to this' — not quite as memorable.

Hear the phrase such is life in use (MP3 43kb)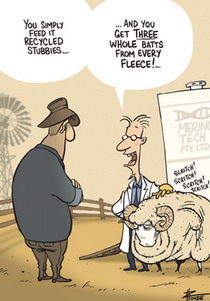 Cartoon: David Pope
What do you think this is – bush week?
Do you think I'm stupid?
An indignant response to someone who is taking you for a fool — 'You're going to charge me how much? What do you think this is, bush week?'
'Bush week' is a time when country people come to town, and the phrase implies that they are easily fooled by the more sophisticated city slickers. The speaker resents being mistaken for a country bumpkin.

Hear the phrase what do you think this is - bush week? in use (MP3 78kb)