Abbreviations
Aussies are renowned for shortening or abbreviating words and expressions, often adding –o or –ie after the word has been abbreviated.
Image Gallery Page Navigation
Page 2 of 2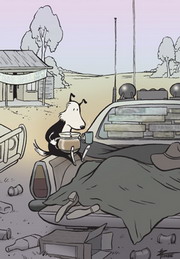 Cartoon: David Pope
Ute
Abbreviation of utility truck, a vehicle designed to carry small loads. It has a two door cab that looks like a sedan, and, instead of a back seat and boot, a built-in tray with fixed sides.
Many towns have an annual gathering of utes for competitive display, called a ute muster, with prizes awarded in categories such as 'best street ute' and 'best feral ute'.

Hear the word ute in use (MP3 41kb)