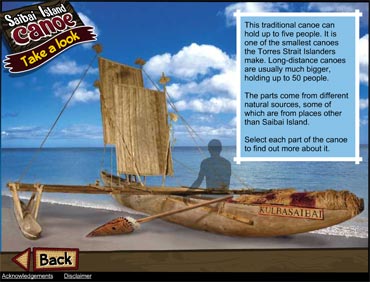 Interactive
Saibai Island canoe (1.08mb) (requires Flash)
Use traditional fishing practices to catch fish, turtles and dugong from your Saibai Island canoe in preparation for a traditional Torres Strait Islander feast.
For 8-12 year olds.
Overview
First learn a little about each of the five Torres Strait Island groups and the people that live on these islands, including the people of Saibai Island who made the Saibai Island canoe that is now part of the Museum's collection.
Then examine the parts of the canoe and learn about the uses for each part. Also learn about how the Saibai Island people traded with other Torres Strait islands and Papua New Guinea to get the materials to make the canoe.
Before you can go fishing, you need to learn about the types of fish and other animals you need to catch for a traditional feast and the traditional tools you will need to use to catch them. You also need to know how much time you have to fish before the feast and how many of each fish you should catch to feed everyone so there is no waste.
When you know all about the Saibai canoe and the traditional fishing customs, it is time to go fishing! Go into deep water then into the shallows to catch the fish you need for the feast. Make sure you use the right traditional tool for each fish or animal, watch your quota and return in time to prepare the evening feast.
Good luck!