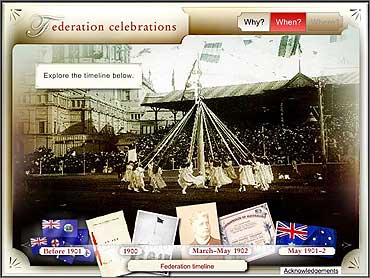 Interactives (requires Flash)
Citizens' Arch: an exploration (1.06mb)
Explore the design and decorations of the 1901 Citizens' Arch. Find out about the arch, its symbols, flags and images and why they symbolised what was important to Australia in 1901.
For 8-12 year olds.
Citizens' Arch: build your own arch (1.64mb)
Design your own arch to represent Australia today by choosing from a range of flags, portraits and symbols to decorate it. After you have made your own arch, compare your new design with the design of the original monument and explain why your design represents modern Australia.
For 10-12 year olds.
Citizens' Arch: Federation celebrations (1.58mb)
Examine documents and memorabilia about the 1901 celebration of Federation celebrations. Explore a timeline of events leading up to Federation and the election of Australia's first Prime Minister. Then find out about the British Empire and how Australia was divided before and after Federation.
For 10-12 year olds.
Overview
The Citizens' Arch series of learning objects explores the Citizens' Arch, which was built in Melbourne in 1901 to celebrate the federation of Australia's six colonies, the opening of Federal Parliament, and a visit from members of the British Royal family.
All three interactives are based around the Museum object, the Citizens' Arch. The arch is a replica of one of many arches built all over Australia to celebrate Australia's federation.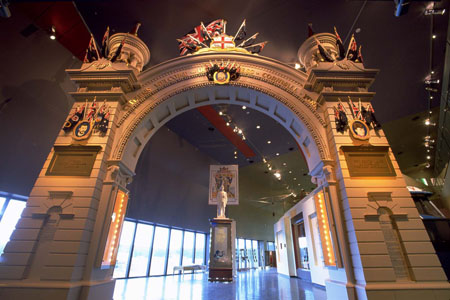 About the replica Citizen's Arch, 2000
This replica previously on show in the Museum's Nation gallery was made from the same plans used to construct an original Citizens' Arch in 1901. Decorative and symbolic arches were a popular feature of colonial public celebrations. They were used to welcome visitors and mark ceremonial processions. The original arch was located on Bourke Street in Melbourne and welcomed the visiting royals, the Duke and Duchess of York.