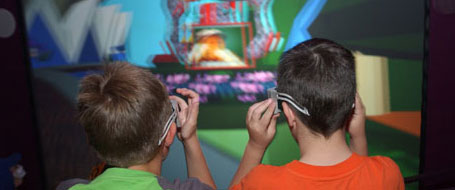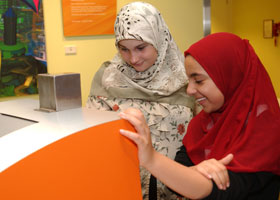 Can you imagine what Australian cities will look like in the future? Will we zoom around in flying cars? Will cities be under the ground or in the sky?
Imagine our future
Kspace was inspired by the National Museum's vision of imagining the future. How we as a society imagine our future says a lot about how we view our present existence.
Kspace uses computers and a three-dimensional theatre to present a space-age Australian city designed by our visitors.
Kspace is one of our most popular Museum experiences and takes about 10 minutes to complete. It's fun for all ages and it's free.
Experience Kspace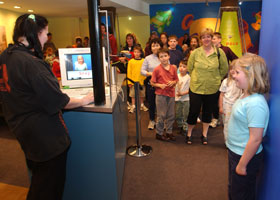 The Kspace journey starts with our visitors being photographed.
Computer touchscreens are used to create futuristic houses or rockets. You can choose different shapes and colours and add special features such as alternative energy sources.
The final designs are presented in the three-dimensional theatre.
Your new buildings and vehicles are personalised with your photo in a dynamic animated city.
Inspired by children
Kspace was created by the National Museum of Australia and the Australian National University Supercomputer Facility.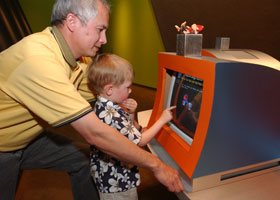 The ANU team created the virtual city based on children's drawings of an imagined city of the future.
The four-minute film includes a soundtrack by Australian electronic artists B(if)tek.
Kspace redevelopment

Keep up with our work-in-progress on the new Kspace.