What's on

The Museum hosts a range of on-site events and programs to engage and entertain adults, including lectures and performances, film screenings and festivals. See the calendar for what's on next. Below, we introduce our recurring and ongoing programs.
Major programs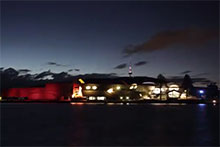 Night at the Museum – exhibits, music, games and fun! – on a different theme each time
Door to Store – onsite and online lecture and Q&A on how to conserve various kinds of objects
Object Stories – What's your story? See ours and others', make your own

Friends
We love our Friends! Join our membership program and be first to hear about special events, and for discounted services, including at the café and in the shop. Find out more about Museum Friends.

Online resources
If you're interested in our ideas and experiences of working on school programs, public programs and online resources, the Engage and Learn blog may be of interest.
Or if your passion is the Australian environment – climate change, cycling, dogs, food, gardening or horses, for example – see the People & Environment blog.

We're regularly adding videos to our YouTube channel and our audio-on-demand site.