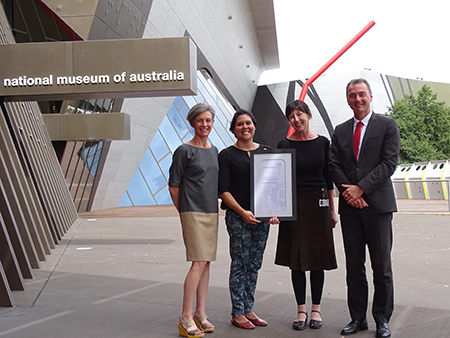 This award acknowledges the outstanding achievements of business, organisations and individuals who have clearly demonstrated their commitment to encourage, welcome and support people with a disability in their workplace, business and community.
Join us in celebrating the vision that a small change can make such a big difference. All public programs at the National Museum of Australia are accessible for all audiences.
Museum offers access for all
The Museum's dedicated access team works to create opportunities that are inclusive and accessible for people of all abilities, age, backgrounds and circumstances, across its galleries, exhibitions and programs.
Tailored workshops
The access team can facilitate small workshops, which consider the specific needs of your group.
Programs run for 90 minutes and include an in-gallery experience, a hands-on workshop and a take-home element.
We have run interactive art and music workshops, reminiscence workshops, facilitated discussions, gallery tours, tactile and multi-sensory workshops.
Contact us to discuss your needs and we can tailor a workshop for you.
Cost: $8 per participant; $5 Museum Friends; free for carers.
Learn more about our reminiscence workshops for people with dementia on our Engage and Learn blog.
Regular programs
We can help organise and assist in your personal or group's participation in any of the Museum's public programs including:
Contact us with your requirements and details. Program costs may apply.
Off-site
Check out our family fun at home pages, with free, downloadable instruction sheets to make your own art and craft creations. We also run a digital Slow Art Day event.
Virtual tours
Schools and community organisations wishing to visit the National Museum digitally can come on a facilitated robot tour! A cable internet connection is required. Find all the details on our robot tours page.
Plan your visit

To plan the logistics of your visit please read about our access services.
If you have specific access requirements or you are interested in bringing in a group to the Museum and have additional access requirements, please contact us directly.
Museum wins inclusion award
We are proud that our work to support and celebrate people of all abilities has been recognised at the 2015 ACT Chief Minister's Inclusion Awards. The National Museum of Australia is the joint winner of the ACT Chief Ministers Inclusion Award for Inclusion in Business or Community.