First Australians: Plenty Stories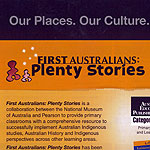 First Australians: Plenty Stories is a comprehensive printed resource for teaching Australian Indigenous studies in middle and upper primary.
This award-winning series was written by the National Museum of Australia's Senior Indigenous Education Officer, Trish Albert.
Australian History Mysteries
Australian History Mysteries provides subscribed schools with a growing set of resources – videos, units of work and interactive modules.
See the word cloud below for a sense of the topics addressed by the series.